On April 4, 2017, archaeologist Mark Walters tweeted an intriguing set of satellite images of a dark smear on the Larsen C Ice Shelf. Was it volcanic ash from a recently active volcanic vent, he wondered?
The tweet — and especially a bright, red spot in an infrared image (lower right in the screenshot) — generated interest among folks who follow Earth science, Antarctica, and volcanoes. New volcanic activity in this area would be surprising and newsworthy. While there is some evidence of volcanic activity near this part of the Larsen Ice Shelf, the most recent reports date back to 1980.
Some remote sensing experts who saw the images were skeptical. "I looked through about four months of satellite images before/after and never saw anything that resembled a plume. Think it's dust on ice," tweeted Erik Klemetti, an associate professor at Denison University and author of Wired's Eruptions blog.
Later, CNRS scientist Simon Gascoin weighed in, noting that the underlying geology in that area was sedimentary rock—a sign that volcanic activity wasn't likely. Then he shared even stronger evidence against the idea of volcanic activity.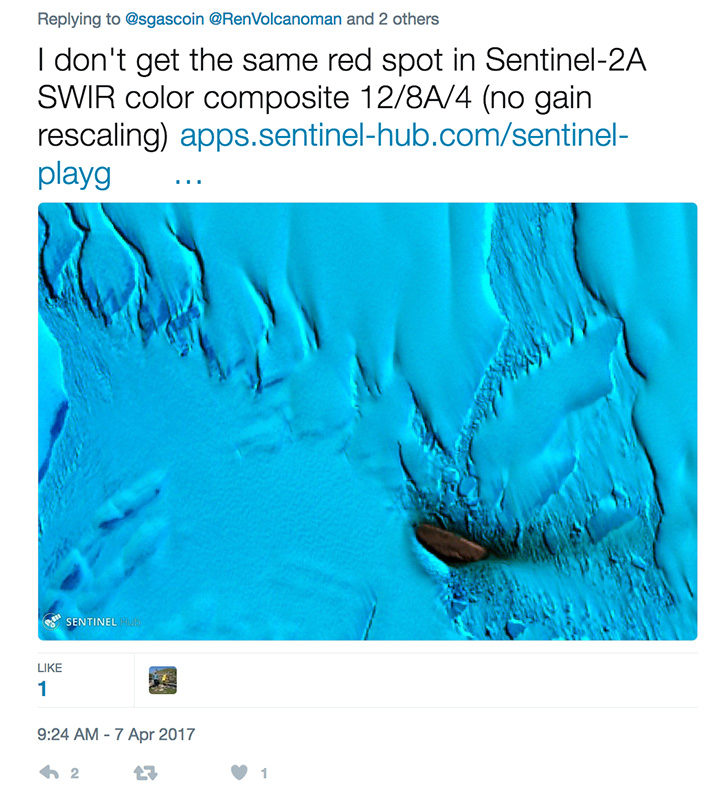 In an email, I asked Gascoin to clarify what he meant by "no gain rescaling" and why his image from the Sentinel Playground looked so different in comparison to the image from Land Viewer.
His reply: "Mark Walters used the Land Viewer, I just checked and found out that the 'contrast stretching' is computed on each RGB band separately. Hence you can get strange results, especially in cases where a single rock island is surrounded by snow and ice which have a very distinct reflectance signature."
In other words, Gascoin is saying that the image-processing algorithm that drives the Land Viewer browser amplified the reflectance signal from the dust in a way that made it appear stronger in the infrared than it actually was. Sentinel Playground uses a different image processing approach (adjusting the contrast of the image "bands" all at once rather than individually) to avoid the problem.
Meanwhile, experts from the Smithsonian's Global Volcanism Program had arrived at a similar conclusion. "It seems unlikely that this is an eruption for a few reasons," emailed Benjamin Andrews. "First, Table Nunatak is formed of Cretaceous rocks, with no evidence of recent activity. Second, it is located pretty far from any other volcanoes, and there doesn't appear to be a good tectonic explanation for current magmatism at Table Nunatak."
So, the mystery appears to be solved. As interesting as it would have been, there is no new volcanic activity happening in this part of Larsen C.
Tags: Antarctica, Larsen Ice Shelf