A boatload of scientists headed out to sea this week. Actually, two boatloads. Both the R/V Salley Ride and the R/V Roger Revelle are taking part in a mission called Export Processes in the Ocean from Remote Sensing (EXPORTS).
Their plan: track what happens to carbon as it sinks from the well-lit surface of the ocean down to the dimmer "twilight zone" (between 650 feet and 3300 feet below the surface) using floats, gliders, and other scientific equipment. Then they'll try to do the same thing using satellites.
To help spread the word about the scientific work the team will be doing, oceanographer and blogger Kim Martini put together a fun set of #sciencetradingcards that people have been passing around on social media. Maybe she'll roll out phytoplankton and zooplankton trading cards next?
Read more about the project from the mission website, a NASA Goddard press release, and the videos below. See a sample of the trading cards at the bottom of the page.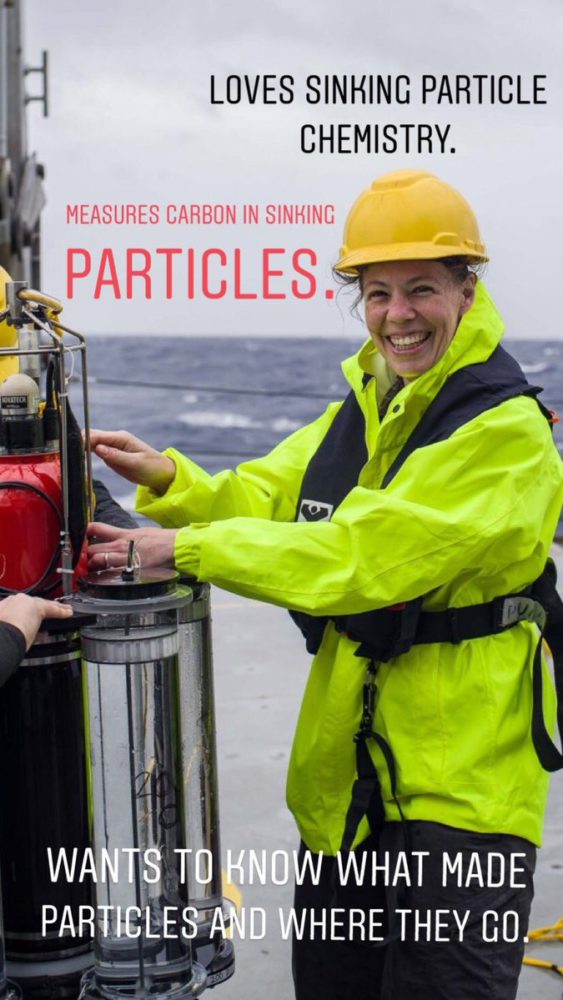 Project Title: Linking sinking particle chemistry and biology with changes in the magnitude and efficiency of carbon export into the deep ocean Project Lead: Margaret Estapa, Skidmore College

Project Title: Autonomous Investigation of Export Pathways from Hours to Seasons
Project Lead: Craig Lee – University of Washington

Ivona Cetinic – EXPORTS Project Scientist
NASA Goddard Space Flight Center/USRA

Project Title: Diatoms, Food Webs and Carbon Export – Leveraging NASA EXPORTS to Test the Role of Diatom Physiology in the Biological Carbon Pump Project Lead: Bethany Jenkins, The University of Rhode Island

Project Title: In Situ Optics and Biogeochemistry in Support of EXPORTS Science Project Lead: Antonio Mannino, NASA Goddard Space Flight Center

Project Title: Zooplankton-Mediated Export Pathways: Quantifying Fecal Pellet Export and Active Transport by Diel and Ontogenetic Vertical Migration in the North Pacific Project Lead: Deborah Steinberg, Virginia Institute of Marine Science

Tags: carbon, expedition, phytoplankton