Join a mosquito mapping blitz for Citizen Science Day through GLOBE Observer.
Earth observations take place on many spatial scales. Some observations originate from sensors in space; others can happen with a mobile phone in the palm of your hand. GLOBE Observer is a free mobile app that connects an international network of citizen scientists with the broader scientific community in an effort to document and analyze changes taking place in Earth's air, land, water, and life. The app is the centerpiece of a citizen science blitz now underway.
Both globalization and a changing climate have caused countless living creatures to adjust their range and distribution. For human health, one of the most concerning impacts of a changing climate is the range expansion of mosquitoes. These flying vectors of disease are responsible for illness in millions of people; they also cause more than 700,000 deaths each year.
The northern hemisphere is now greening up in response to changes in sunlight and temperatures, and mosquito season is either just beginning or underway in much of the contiguous United States. The map above indicates when the first appearance of mosquitoes can be expected based on past weather data. The actual time of first appearance in a region can vary by several weeks, depending on the weather and other variables.
The GLOBE Observer app has a new tool known as the Mosquito Habitat Mapper, which makes it possible for citizen scientists to observe, record, and share data about mosquito breeding sites using a mobile phone. The data are important to scientists trying to predict disease outbreaks and epidemics. Observations provided by citizen scientists, combined with satellite observations and models, can make it possible to track the range and spread of invasive mosquitoes.
With the Mosquito Habitat Mapper, citizen scientists can report active and potential breeding sites in their communities. And using a built-in taxonomic key, GLOBE Observers can help determine whether the mosquito larvae have the potential to transmit disease pathogens to humans.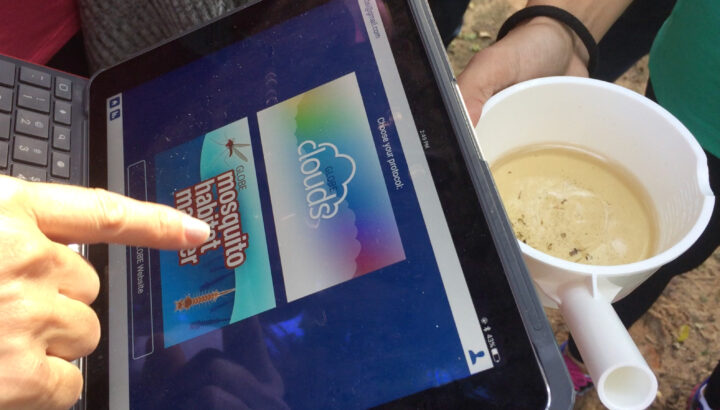 GLOBE Observers also can have an immediate impact on health in their community. In the last step of Mosquito Habitat Mapper, users report whether they were able to remove a breeding site. This can be accomplished in most cases by simply tipping and tossing standing water that is found in containers, or by covering stored water with a net or a lid. For larger water bodies such as ponds, irrigation ditches, or swamps, the reports about breeding sites can be used by mosquito surveillance agencies.
In this way, GLOBE Observers are not only engaged scientifically, they can become agents of change in their community. The World Health Organization (WHO) identifies source reduction–the elimination of mosquito breeding sites–as the most effective way to protect human populations and reduce the threat of mosquito vector-borne disease.
The GLOBE Observer Mosquito Blitz kicked off on April 7, 2019, and ends on Citizen Science Day (April 13). Join in this effort by downloading the app. Follow GLOBE Observer on social media during Mosquito Blitz week on Facebook or Twitter. Check out the Mosquito Blitz website and GLOBE Mission Mosquito for more mosquito resources.