The Grand Canyon in northern Arizona has a long history. Between 5-6 million years ago, the Colorado River started carving through a high, flat plateau. About 12,000 years ago, people in the vicinity of the canyon left behind the area's oldest known human artifacts. One-hundred years ago, a signature by President Woodrow Wilson established the Grand Canyon as a National Park.
NASA Earth Observatory has existed for just one-fifth the time of Grand Canyon National Park. But over those 20 years, satellites and astronauts have captured some magnificent views of the park from above. Here are some of our favorites.
From the International Space Station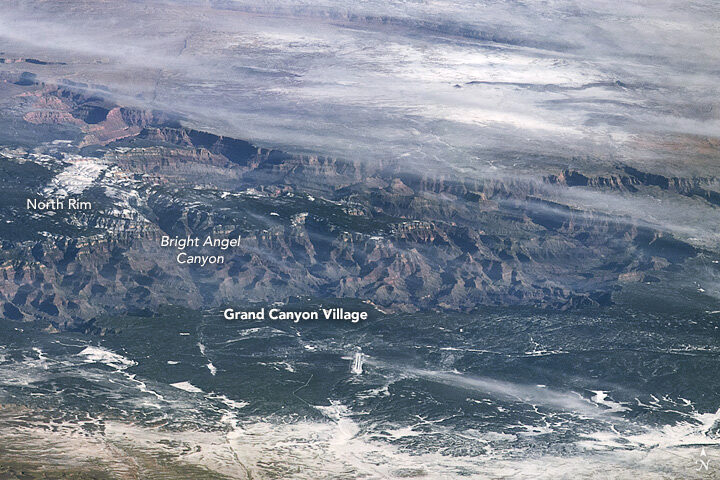 "If you want to see the whole canyon at once, an airplane won't do. You have to be in orbit. I would highly recommend the International Space Station, if you have the chance."

Marker Marshall, U.S. National Park Service ranger at the Grand Canyon
The top image, shot by an astronaut from the International Space Station (ISS), shows the canyon in winter 2009, when snow blanketed part of the plateau. The second image, also shot from the ISS, shows the canyon in spring 2014.
From Satellites
Satellites usually offer nadir (straight-down) views of the canyon, such as these natural color images acquired with the Landsat 8 satellite in April 2013. The wide view shows the canyon in context with the surrounding plateau, while the detailed image shows an area around the rapids known as Lava Falls (in reference to old lava flows in the area).
In its 100 years as a National Park, the canyon still turns up surprises to visitors and Park Service rangers. These images show a rare weather event in December 2013 that filled the canyon with an ocean of clouds.
Three-dimensional views are also possible from space. An improved version of a digital topographic map of Earth released in October 2011 made it possible to produce this 3D view of the eastern part of the Grand Canyon.

You can view more Earth Observatory images of the Grand Canyon here. And if you find yourself in Arizona, here is list of centennial events hosted by the National Park Service throughout the year.