The sharp-angled iceberg that made headlines in late October 2018 had a longer, rougher journey than was initially thought.
The iceberg was spotted on October 16, 2018, during a flight for Operation IceBridge—NASA's long-running aerial survey of polar ice. During that day's survey of glaciers and ice shelves along the northern Antarctic Peninsula, scientist Jeremy Harbeck spotted the compelling berg. Harbeck explained in a NASA story his reason for taking the picture:
"I was actually more interested in capturing the A68 iceberg that we were about to fly over, but I thought this rectangular iceberg was visually interesting and fairly photogenic, so on a lark, I just took a couple photos."
Not only were the edges of the iceberg extremely straight, but the two corners appeared "squared off" at right angles. The berg was so clean-cut that it was reasonable to assume it might have very recently calved from the Larsen C ice shelf. That's the same ice shelf that spawned A-68, the trillion-ton iceberg that broke away in July 2017.
It turns out, however, that the rectangle berg actually has had a much longer journey. Scientists used images from Landsat 8 and the European Space Agency's Sentinel-1 to trace the berg back to its origins. They found that it calved from the ice shelf's new front in early November 2017, just a few months after A-68 broke away. The image below, tweeted November 9, 2018, by Stef Lhermitte of Delft University of Technology, shows the small, newly calved icebergs. The rectangle iceberg—which was about 4 kilometers long at the time—appears just north of a curved berg. Both were about a third of the way down the new front of the Larsen C.
The rectangle berg then began a northward journey, navigating the newly open water between the Larsen C ice shelf and Iceberg A-68. Collision threats were everywhere: A-68 could smash into the little bergs at any time, and smaller bergs could collide with each other.
The berg cruised all the way north and through a narrow passage between the A-68's northern tip and a rocky outcrop near the ice shelf known as Bawden Ice Rise. NASA/UMBC glaciologist Chris Shuman likens this zone to a nutcracker. A-68 has repeatedly smashed against the rise and caused pieces of ice to splinter into clean-cut geometric shapes. An area of geometric ice rubble is visible in the Landsat 8 image (top and below) from October 14, 2018, two days before the IceBridge flight.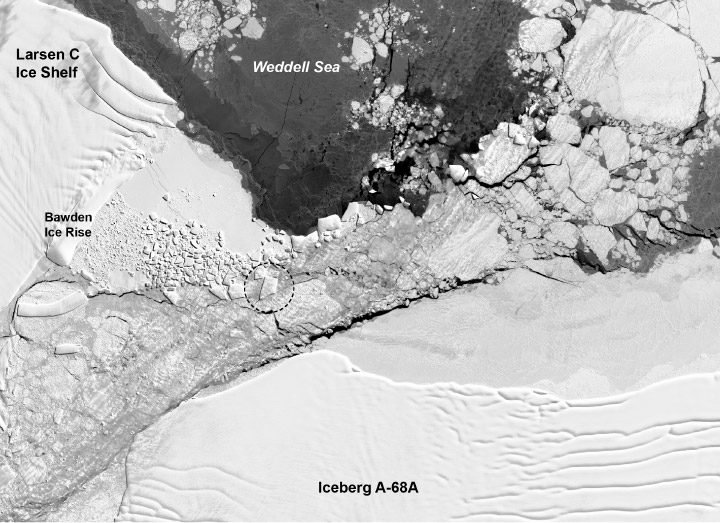 The once-long rectangle berg did not make it through unscathed; it broke into smaller bits. The iceberg in Harbeck's photograph, circled in the annotated Landsat 8 satellite image, appears closer to the shape of a trapezoid. The trapezoidal berg is about 900 meters wide and 1500 meters long, which is tiny compared to the Delaware-sized A-68.
By November 2018 the iceberg had moved out of the rubble zone and into open water. Shuman noted: "Now it's just another iceberg on its way to die."