In recognition of World Oceans Day (June 8) and this week's UN Oceans Conference, here are some recent highlights from ocean science…
1.4 Million Pixels of Salt
The Gulf of Mexico, like any sea, is rich in dissolved salts. Unlike most seas, the Gulf also sits atop a big mound of salt. Left behind by an ancient ocean, salt deposits lie beneath the Gulf seafloor and get pressed and squeezed and bulged by the heavy sediments laying on top of them. The result is pock-marked, almost lunar-looking seafloor. The many mounds and depressions came into clearer relief this spring with the release of a new seafloor bathymetry map compiled from oil and gas industry surveys and assembled by the U.S. Bureau of Ocean Energy Management.
3D Water Babies
NASA's Scientific Visualization Studio took a look back at conditions in the Pacific Ocean in 2015-16, which included the arrival and departure of both El Nino and La Nina. The 3D visualizations were derived from NASA's Modern-Era Retrospective Analysis for Research and Applications (MERRA) dataset, a global climate modeling effort that is built from remote sensing data.
In other Nino news, a research team led by NASA Langley scientists found that the strong 2015-2016 El Niño lofted abnormal amounts of cloud ice and water vapor unusually high into the atmosphere, creating conditions similar to what could happen on a larger scale in a warming world.
Not the Kind of Brightening You Want to See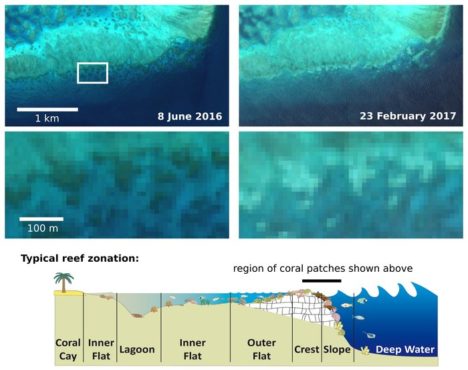 For past few years, warm ocean temperatures in the western Pacific Ocean have wrecked havoc on the Great Barrier Reef. Extreme water temperatures can disrupt the symbiotic partnership between corals and the algae that live inside their tissues. This leads the colorful algae to wash out of the coral, leaving them bright white in what scientists refer to as "bleaching" events. The health of coral reefs is usually monitored by airborne and diver-based surveys, but the European Space Agency recently reported that scientists have been able to use Sentinel 2 data to identify a bleaching event on the Great Barrier Reef. Such satellite monitoring could prove especially useful for monitoring reefs that are more remote and not as well studied as those around Australia.
Eyeing the Fuel for Hurricane Season
On June 1, the beginning of Atlantic Hurricane Season, the National Oceanic and Atmospheric Administration released a map of sea surface temperatures in the Caribbean, the Gulf of Mexico, and the tropical North Atlantic Ocean. The darkest orange areas indicate water temperatures of 26.5°C (80°F) and higher — the temperatures required for the formation and growth of hurricanes. Forecasters are expecting a hurricane season that is a bit more active than average.
(Finger)Prints of Tides
In a new comprehensive analysis published in Geophysical Research Letters, a French-led research team found that global mean sea level is rising 25 percent faster now than it did during the late 20th century. The increase is mostly due to increased melting of the Greenland Ice Sheet. A big part of the study was a reanalysis and recalibration of data acquired by satellites over the past 25 years, which are now better correlated to surface-based measurements. The study found that mean sea level has been increasing by 3 millimeters (0.1 inches) per year. The American Geophysical Union published a popular summary of the study.