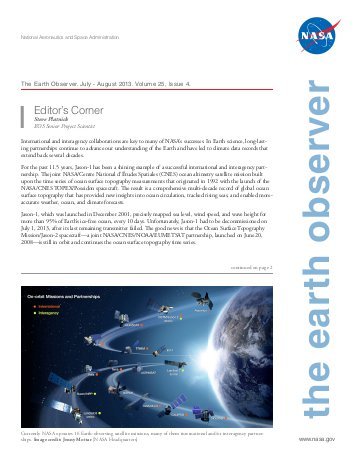 A new edition of The Earth Observer, a bi-monthly publication that covers the nuts-and-bolts of NASA's Earth Observing System, is out. Here are a few excerpts, along with some musical headlines that may get you humming as you read. You can download the full issue here. Back issues here.
ICE ICE BABY
The Advanced Topographic Laser Altimeter System (ATLAS), the lone instrument on ICESat-2, successfully fired its laser on September 30 after the mission operations team completed testing of the spacecraft and opened the door protecting the optics. The primary science mission for ICESat-2 is to gather enough observations to estimate the annual height change of the Greenland and Antarctic ice sheets to within four millimeters. Hundreds of billions of tons of land ice melt into the ocean annually, raising sea levels worldwide. In recent years, meltwater from Greenland and Antarctica alone has raised global sea level by more than a millimeter a year, and the rate is increasing.
THIS LANDSAT IS YOUR LANDSAT
In January 2008, the U.S. Geological Survey and NASA decided to open the full Landsat image archive for public access on a non discriminatory, no-cost basis. This change in Landsat's data policy ushered in a new era of Landsat data uses and applications while also revolutionizing the way Landsat has been woven into scientific discovery, economic prosperity, and public policy for management of land and water resources across a range of scales.
DEVELOPING SATELLITE SKILLS FOR 525,600 MINUTES (TIMES TWENTY)
From 1998 to the current 2018 fall term, the NASA DEVELOP National Program has engaged 4,671 participants who have conducted 931 projects. The program bridges the gap between science and society by demonstrating how NASA Earth Science data can be applied to environmental decision making. These projects have demonstrated the applications of NASA Earth observations to a wide variety of sectors, addressing topics such as drought monitoring, vector-borne disease risk, water-quality assessments, pre- and post-wildfire mapping, agriculture monitoring, and critical habitat identification.
I CAN SEE CLEARLY NOW

The first Earth Science Decadal Survey identified CLARREO as a Tier-1 (i.e., highest) priority mission for development. The CLARREO Pre-Formulation Mission, referred to herein as the "Full" CLARREO mission, was recommended to better understand climate change. The foundation of CLARREO is the ability to produce highly accurate climate records to test climate projections in order to improve models and enable sound policy decisions.
Tags: Earth Observer