July 30th, 2009 by Gene Feldman
I have just learned that there is a chance that I may get to go ashore this morning just south of Tagus Cove and Beagle Crater and hike up to the rim where there is a small outpost station manned by a couple of members of the Galapagos National Park Service. I am not sure exactly how they are going to feel about an oceanographer from NASA who doesn't speak a word of Spanish knocking on their door asking if he could possibly "borrow" their internet connection for a few minutes to send a message back to the Earth Observatory for his "Notes from the Field" but I figure that it may just be a strange enough request that they may actually allow me to do it. If so, rather than completely swamp their network by trying to transfer the nearly 1,000 photographs that I have taken since leaving Academy Bay on Sunday evening, I've decided that I would like to take this unexpected opportunity to introduce the incredible people who I have had the absolute pleasure of sharing this little 50 x 15 foot floating assemblage of wood that is our home for the week as we explore the Encantadas – the Enchanted Isles of Galapagos.
Hopefully, you'll hear more from these folks through their own words once we return to Academy Bay and I have a chance to send in some of the journals that they have been kind enough to write but for now, I'll just let some of the photos that I have taken and the very briefest of descriptions stand on their own. Just let me say that a person could not ask for better shipmates than these wonderful and generous folks and I feel incredibly fortunate to have been given this remarkable opportunity to share this adventure in the company of such a amazing group of people.
M/V Queen Mabel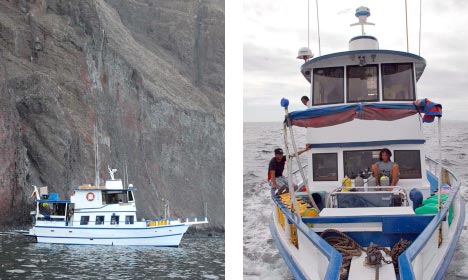 July 26th, 2009 by Gene Feldman
We loaded the boat this morning at 8:00 am, transferring everything that we would need for the week into a small inflatable dingy which made three trips out to the M/V Queen Mabel before everything was on-board.
The captain decided that we'd leave port at around 6:00 pm this evening, just as the sun is setting, which after steaming through the night should put us at our first dive site off Isabella Island very early tomorrow morning.  Since this may be my last opportunity to send my impressions until we return from the cruise, I decided to try and put together a few of the things that have caught my eye, my mind and my heart over the past week and to share them by sending along a number of the pictures that I have taken.
The Place, The People, The Wildlife
And with that I will sign off as it is time to head over to the dock to catch the dingy to go out to the Queen Mabel which will be my home for the next week or so.  Hopefully, I will have many interesting stories to tell and images to share when we return on or about August 2nd.
Until then, thanks so much for following along.
July 26th, 2009 by Gene Feldman
Prayer of the Breton fisherman
I am certainly no stranger to boats. I have wrestled sharks with a half naked Samoan fisherman in a leaky outrigger canoe in the middle of the Pacific Ocean, stood on the crosstrees of the mainmast, 130 feet above the deck, of the wooden tall ship HMS Rose (the boat that was later to be used in the film Master and Commander) as we sailed her from Miami to New York City, spent two weeks with Bob Ballard aboard the deep sea submersible Alvin's mother ship, the Atlantis, while the ROV Jason explored the hydrothermal vents a mile below in the Sea of Cortez, and was even lucky enough to have spent time underwater aboard the U.S. Navy's smallest nuclear research submarine, the NR-1. However, for some reason, all indications are that the boat that will be taking us out to the western part of the Galapagos Archipelago is somewhat "unique".
July 26th, 2009 by Gene Feldman
I have been very fortunate to be accompanied on my first trip to Galapagos by Professor John Morrison of the University of North Carolina Wilmington, a long-time colleague, collaborator and friend. Having been here many times over the past eight years, John was a great source of local knowledge and invaluable in helping ease the transition from the familiar, although increasingly uncomfortable, travel rituals of airports in the United States to those very different customs that we faced once arriving in Ecuador and more importantly, in Galapagos. I have asked John to provide a little perspective on his work here in Galapagos from the "boots on the ground" perspective or perhaps more appropriately, "flippers in the sea". While we still have access to the internet before heading out to sea, I humbly submit his journal for your reading enjoyment.
July 25th, 2009 by Gene Feldman
Fish markets in the States are generally judged by their degree of sterility, cleanliness and lack of, well, fishiness. In Galapagos, as in many countries around the world, there is a much closer connection between the fish, the fisherman and the fish market. Each morning on my way to the Symposium and each evening on my way home, I pass by a little covered area along the shore of Pelican Bay that is the site of an open air fish market and which is also the site to some of the most amazing wildlife battles that I have seen. Throughout the day, local fishermen tie up their little blue boats along the dock and bring ashore all sorts of fish to sell.