August 13th, 2019 by Andy Hynous, Mission Operations Manager, NASA Balloon Program Office
Did you know that NASA has a balloon program? At NASA, we not only launch balloons, we launch balloons that can carry almost 8,000 pounds to over 120,000 feet. That's like taking two Ford Mustangs, fully loaded, and flying three times higher than a Boeing 777. When our balloons fly, they carry world class telescopes, cosmic ray detectors, and Earth science instruments. Many of NASA's most successful satellites actually started out as balloon missions. I am always amazed when I realize how capable these platforms are.
The NASA balloon program conducts launches from the four corners of the world. Right now I'm in Ft. Sumner, New Mexico, the Land of Enchantment, where we're gearing up for another campaign. Next, we'll be taking flight over Antarctica. We also fly regularly from Wanaka, New Zealand and Esrange, Sweden. Keep checking back here for more updates! I'm going to put updates on our science missions, updates on life in the field, and more information on how we conduct our launches!
Until next time, I've attached a picture from last year's Ft. Sumner Campaign, taken by yours truly, to help give a sense of scale for our balloons.
July 29th, 2019 by Rebecca Scholten/Vrije Universiteit Amsterdam
2019 is bound to become one of the largest fire years on record in the Arctic Circle, and especially in Siberia. How much carbon these fires release remains a challenging question. Very little ground data on fire emissions is available for Siberia and estimations are difficult since the main part of the emissions originates from organic soils, which is harder to retrieve from satellite imagery than emissions from aboveground biomass. Our research team from the Vrije Universiteit Amsterdam (the Netherlands), Woods Hole Research Center, Northern Arizona University (USA), Pyrenean Institute of Ecology (Spain), and the Siberian Branch of the Russian Academy of Sciences and Tomsk State University (Russia) are joining forces to better understand fire dynamics in Siberia.
After an adventurous three-hour drive, our field crew gathered with the local collaborators at Kajbasovo Research Station near Tomsk, in Russia. We aimed at finding old pine trees in burned and unburned sites, which we then core with tree borers to build tree-ring chronologies. Wildfires in this western part of the Siberian boreal forest usually don't burn with high intensity allowing some resilient trees to survive multiple fire cycles. Thus, we aimed at using the chronologies to reconstruct the fire history of the area and to assess the response and recovery times of the ecosystem after fire events and other disturbances.
Little did we know that we would ourselves witness the severity of this year's fire season. Except for the first day, we did not see a clear sky. From then on, the sun would only appear as a bright orange or blood red ball behind lots of smoke originating from wildfires in the Krasnoyarsk region hundreds of kilometers away. One good thing about this is that it dampened the heat, since we were already quite warmly dressed in our tick- and mosquito-proof clothing.
Mosquitoes and heat, however, were only small obstacles, as we set out with our borers to find trees older than 100 years. We really wanted trees from that age so that we can build sufficiently long chronologies. Even at the most remote places we were surprised to often see signs of human activity such as past logging, resin extraction or littering. One day we even saved a duckling out of a fisher net set up a good 4 hours bumpy drive away from the next village. Or sometimes we would simply not find old trees because of natural disturbances or growth restrictions. Eventually, we did manage to sample 12 sites with old trees with different fire severities and hydrologic characteristics. These will now be analysed further in the lab to extract and crossdate the tree rings.
Being in the field and having only very little time to sample can be an intense working experience, but there were many special little moments too. Our driver overcame every obstacle on the way to bring us to very remote places, and our cook took great care of us with plenty of delicious borscht, buckwheat and blinis (type of pancakes) and provided large amounts of water and kompot (sweet fruit beverage). And our evenings were spent at camp fires diving into local culture and connecting the people.
After ten exciting days in Tomsk we are now resting and recovering in Yakutsk for the weekend. We are using the time for some team building activities, and we are enjoying some solid hours of sleep. We went shopping for supplies for the second part of our field campaign, which will lead us to even more remote areas around the little villages of Ert and Batamay in the next four weeks. There, we will visit recently burned forests and measure the carbon losses due to fire events. In addition, we will take more tree chronologies to estimate the stand age, and count seedlings to see how forests recover after fires of different severities.
This field campaign is part of the 'Fires pushing trees North' project funded by the Netherlands Organisation for Scientific Research (NWO) and affiliated with NASA ABoVE. The Tomsk part of the campaign was funded by INTERACT.
This blog post was written by Rebecca Scholten, PhD student at Vrije Universiteit Amsterdam, researching arctic-boreal fire dynamics.
July 10th, 2019 by Sara Miller
I have been working with a project focused on drought in Kenya for months using NASA satellite data and was excited to get a ground-based perspective of the country and meet fellow Earth Scientists in Nairobi, Kenya. My colleague Eric Anderson and I attended a week long course on the Quality Index Insurance Certification (also known as QUIIC), which provides methods to evaluate the quality of satellite-based indices for use in agriculture/pastoralist insurance.
I've been working with SERVIR since November 2018 to support the development of a lower-latency vegetation index, inspired by Kenya Livestock Insurance Program needs. A lower-latency product can enable programs like these to provide relief sooner, potentially before total losses. The Normalized Difference Vegetation Index (NDVI) is currently used in this insurance program and provides a satellite-based measure of vegetation health, which can show how much forage is available for livestock consumption. When conditions are bad, the program is intended to help people through the season without experiencing devastating losses.
Indices, such as vegetation health, can be monitored using satellites and provide a low cost way to detect things like drought, especially where field data is scarce and pastoralists may otherwise be uninsurable under traditional contracts. Index insurance programs are meant to promote farmer and pastoralist resilience, but if they are designed poorly they can actually leave people worse off. For example, if conditions are bad one year but the index fails to trigger payouts, farmers would be worse off had they purchased insurance and not received a payout. The information-rich course, led by economics experts from UC Davis (Michael Carter and Elinor Belami), helped us understand a different side of applying remote sensing to real world problems. We learned about the economics of insurance and evaluated the quality of using different indices compared to traditional insurance for a focus region.
It was a great experience to be able to see a different culture and meet so many people from different backgrounds. Our next mission is to bring what we learned in the course back to the SERVIR hubs and explore ways to apply it. Using methods to measure quality of an insurance index we can decide if index based insurance is appropriate for different regions.
June 3rd, 2019 by Emil Cherrington
Belize is a small Central American country whose people pride themselves on trying to maintain a balance between development and conservation. I grew up in Belize City, near where the Belize River empties into the Caribbean Sea. The country's landscape—covered by tropical forests and a network of rivers extending into the ocean—is fascinating, especially when viewed from the vantage point of space. I was able to return to Belize to join scientists from four organizations (Wildlife Conservation Society, the University of Alabama in Huntsville, the University of Georgia and NASA's Jet Propulsion Laboratory) to kickoff research the likes of which Belize has never seen before. Our NASA-supported project, "Climate-influenced Nutrient Flows and Threats to the Biodiversity of the Belize Barrier Reef Reserve System," (BZ-SDG for short), examines how satellite data can help with the Sustainable Development Goals (SDGs), a set of 17 goals agreed to at the United Nations' General Assembly in 2015. BZ-SDG looks at how NASA Earth observation data can help with monitoring progress on two goals (SDGs 14 and 15), "life below water" and "life on land." While BZ-SDG is the first NASA project focused specifically on Belize, it builds on NASA's earlier work in Central America under the SERVIR program, implemented by USAID and NASA. The project is also a demonstration for the Earth Observations for the Sustainable Development Goals (EO4SDG) initiative.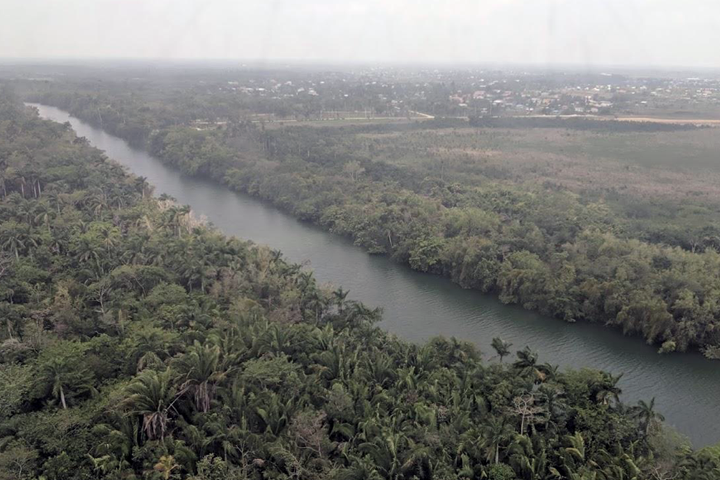 There is increased interest in using satellite imagery for monitoring coastal areas in Belize, following on a coastal zone management program that began in the early 1990s. The Belize Barrier Reef is the second longest coral reef system in the world, and local scientists want to know what impact activities on land are having on these reef ecosystems. Coral reefs are like forests of the sea, and are important for maintaining fisheries. A 2008 study found that coral reefs, in association with mangroves, contribute to between 12% and 15% of Belize's tourism earnings. Sometimes plumes of sediments wash down the country's river systems and can be seen by satellite images extending all the way out to the coral reefs. Activities inland were also suspected of contributing to a large bloom of green algae off Belize's coast in 2011.

As "eyes in the sky," satellites can survey vast extents of land, as well as the seas (i.e. the 'seascape'), showing us information about water quality using different parts of the spectrum of light. In addition to specific satellites that focus on color of river water and sea water, there are also ways to use satellite imagery to track changes within that water, like sediments flushed into the rivers by erosion occurring further inland, or chlorophyll caused by photosynthesizing organisms.

Upon arrival to Belize, we were joined by Sol Kim and Rafael Grillo, two Ph.D. students from the University of California, Berkeley, to carry out these on-site validation measurements. Over a period of two days, our team collected water quality samples on a path extending from just off the coast of Belize City all the way out to barrier reef—a distance of 15km (approximately 9 miles) out to sea. By comparing what the satellites "see" with what is measured in the field, researchers can help improve how the satellites estimate water quality in Belize's coastal waters.

We also traveled a few kilometers up two sections of the Belize River: first, up the main channel (for a distance of 8 kilometers or 5 miles), and 10 kilometers (approximately 6 miles) up Haulover Creek, which divides Belize City north-south and is the final section of the river. Aside from the water samples collected, the Belize River "mangrove cathedrals"—stands of red mangrove (Rhizophora mangle) rising to about 20 meters (approx. 65 feet) in height—were also seen on the journey through Haulover Creek.
In total, 50 water quality samples were taken in the river and in the sea to determine sediment concentrations at each site. Additionally, using a hand-held sensor and a simple instrument called a Secchi disk, parameters like water depth, salinity, dissolved oxygen, pH, and temperature, were also measured. Locations of the 50 sample sites were geolocated using a handheld GPS receiver.
On May 15, measurements were even taken at the same time as the Sentinel-2A satellite (from Europe's Copernicus system) passed overhead! Unfortunately, the conditions were cloudy, so it wasn't possible to estimate sediment concentrations from that imagery.
Another fascinating part of the monitoring process is sampling in visibly tannin-rich river water near the mangrove cathedrals. Water could not be seen in different types of satellite images reviewed, including 30m Landsat imagery (NASA / USGS), 10m Sentinel-2 imagery (European Space Agency / Copernicus) or 3m Planet Labs Planetscope imagery. This is partly due to how narrow the river is, and mangrove trees overhanging the river, but it also means that it isn't possible to use those types of images to examine water quality in portions of the Haulover Creek.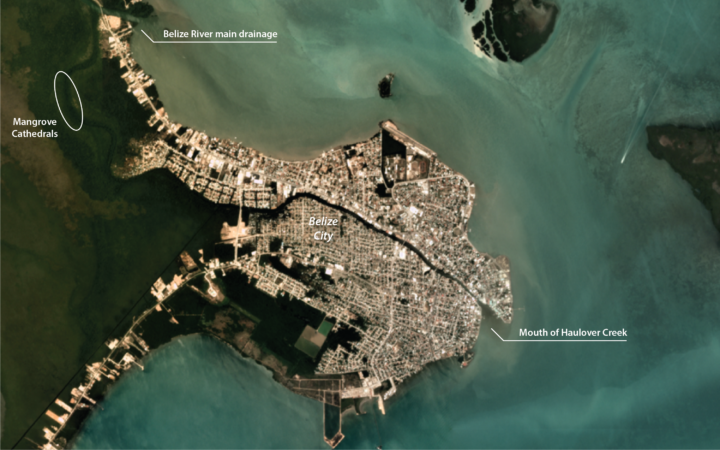 Calibrating the satellite-based estimates of water quality (from Landsat and Sentinel-2) will rely on measurements from the water quality samples collected. Since seasonal influences affect water quality, this year's sampling was timed to coincide with the end of the dry season. Additional water quality samples are planned to be collected during the wet season later this year, as well as next year's dry season. Using this data, our team expects to work with local partner organizations like Belize's Coastal Zone Management Authority & Institute to provide an interactive virtual dashboard that shows how water quality is changing across the coast over time. The country will be able to quickly detect when water quality events affecting Belize's coral reefs occur with the dashboard.

This research is supported by NASA under cooperative agreement number #80NSSC19K0200. The project team includes Nicole Auil-Gomez, project co-Investigator Dr. Alex Tewfik, Myles Phillips, Victor Alamina, Ralna Lewis, and Deseree Arzu of the WCS, project Principal Investigator Dr. Robert Griffin and co-Investigator Dr. Emil Cherrington of UAH, project co-Investigator Dr. Deepak Mishra of UGA, project co-Investigator Dr. Christine Lee of NASA JPL, and Ph.D. students Sol Kim, Xiaowei Wang, and Rafael Grillo Avila of UC-Berkeley. Dr. Cindy Schmidt, Associate Program Manager for the Ecological Forecasting program of the NASA Applied Science Program, also participated in the field visits.

May 30th, 2019 by Kelly Brunt
This winter, our field team of four completed the two-week 88S Traverse in Antarctica in an effort to provide the best means of assessing NASA's ICESat-2. When you show folks pictures from the trip, they are usually taken by the beauty of the stark landscape. They become interested in hearing more. Then, after you explain daily temperatures, what you ate along the traverse, and your access to WiFi, the trip suddenly seems extreme. And they think you are crazy for participating in such an endeavor.
So, let's meet the crazy 88S participants.
I'm Kelly and I am the leader of this project. This was my second year on the 88S Traverse and I was the only crazy person who had done this twice; everyone else was new to the project this season. That speaks volumes about my deep-field cooking skills! I am a researcher at the University of Maryland and NASA Goddard Space Flight Center, specializing in the remote sensing of ice sheets, and I have been on the ICESat-2 project since 2010. This was my 11th trip to Antarctica, which included a few years with the science support staff at McMurdo Station, a few years of doing field work toward my PhD, a season with the Australians during my postdoc, and then of course a couple of seasons with this project. I grew up skiing in New England and I absolutely love cold environments and the challenges of doing this type of field work.
Adam was the other NASA researcher on this trip. This was his first year on the 88S Traverse and his first trip to Antarctica. Overall, I think he had a really good time! He is also a researcher at the University of Maryland and NASA Goddard Space Flight Center, and has been on the ICESat-2 project since about 2013, where he has been looking at how green laser light from ICESat-2 interacts with the surface of the ice sheet. Adam hails from New Hampshire and loves skiing, so he was enthusiastic and well suited for much of the Antarctic climate.
Matt was the Traverse mechanic. Similar to Adam, this was his first year on the 88S Traverse and his first trip to Antarctica. And I know that he enjoyed the experience because he decided to stay in Antarctica for the winter! He took a lead mechanic position at McMurdo Station soon after returning from the Traverse. The winter will be pretty cool for him, as it will allow him to experience being in 24 hours of darkness during the period around the southern hemisphere's winter solstice (June 21st). Matt is a PistenBully expert and gained his experience at a ski resort in Washington called White Pass, which is where Olympians Phil and Steve Mahre grew up. So, similar to Adam, he also loves skiing and was well suited for much of the Antarctic climate.
Chris was the Traverse mountaineer and medic. This was his first year on the 88S Traverse but Chris has oodles of experience in Antarctica, dating back to the 1990s. He's a licensed IFMGA American Mountain Guide that has led trips all over the globe, mostly in steep or icy regions. This type of experience is so important for the safety of field projects that are based on the ice sheet. Added to these highly technical skills is his medical training: Chris was a US Navy Hospital Corpsman and provided us with a top-notch level of experience that we all hoped we would never need while on Traverse. Like Matt, Chris is from the Pacific Northwest and grew up skiing in that region. Most recently claimed Seattle as his home base. After the traverse, Chris briefly joined another Antarctic traverse, which was based out of McMurdo.
So the common thread between the folks on this traverse was of course the 'crazy' component, but also that each of us has an overall love of spending time in cold environments. And coffee. Everyone on this trip loved their coffee.