June 25th, 2020 by Melinda Webster/University of Alaska Fairbanks
Sea ice geophysicist Melinda Webster is blogging from the RV Polarstern, an icebreaker ship locked in Arctic sea ice for the MOSAiC expedition. Webster will use MOSAiC data as a blueprint to evaluate and extend the seasonal capability of data from NASA's ICESat-2 satellite for sea ice research.
June 9, 2020
On Monday June 8, we finally left Isfjorden for the Arctic ice pack.
Before that, leg 4 scientists and crew waited about 2-3 weeks aboard the Maria S. Merian and Sonne, which positioned themselves just outside of the mouth of Isfjorden (a fjord in the Norwegian archipelago of Svalbard). Why? Norway was closed due to COVID-19, and MOSAiC eliminated possible COVID-19 exposure to scientists and crew by keeping us on board. So, we became accustomed to the nice view of Isfjorden, had numerous science meetings, held indoor sports competitions, and took opportunities every day to look for whales passing by.
But why wait 2-3 weeks more after spending two weeks in quarantine on land? It turns out, the Polarstern was making slow progress through thick sea ice. While a thick, compacted sea-ice cover helps its odds for surviving the summer melt season, it's difficult for icebreakers to navigate through, and sometimes requires backing and ramming to break through the most consolidated areas.
In the wee hours of June 4, we spotted the Polarstern on the horizon. All three ships traveled together into Isfjorden and Adventfjorden to begin cargo, fuel, and personnel operations that morning. Our "handover" would soon begin, which entailed leg 3 scientists sharing as much information as possible with us for locating gear, instrument repair, measurement preparations, data processing, decision-making, reporting, and general life on board. Outside of these technical details, it was simply a joyful time to be with our colleagues after they had spent about four months in the field. We brought them fresh fruit as a treat.
Friday and Saturday were moving days. The crews did a phenomenal job with the logistical operations. The Sonne, which had our atmospheric science team and many crew, saddled up alongside Polarstern to shift cargo, luggage, and personnel across via a gangway and cranes.
On Saturday, it was the Merian's turn to go alongside Polarstern to carry out the same procedures with the remaining science teams, crew, and cargo. Going on board Polarstern felt immense. Even though it's slightly larger than the Merian and Sonne, it feels enormous on the inside with passageways snaking through one another. There are numerous labs and containers, and multiple saloons and mess halls.
On Monday, we said bittersweet goodbyes. All three ships left the fjord together, with Maria S. Merianin the lead, followed by Sonne, and, bringing up the end, the Polarstern. Beyond Isfjorden, the ships signaled their horns as a final farewell to one another. The Polarstern steamed ahead while the Maria S. Merian and Sonne turned southward back to Bremerhaven. Although we left in partly sunny skies, the forecast for the evening predicted rough seas and strong winds for the following waypoints of all three ships.
May 21st, 2020 by Melinda Webster/University of Alaska Fairbanks
Sea ice geophysicist Melinda Webster will be blogging from the RV Polarstern, an icebreaker ship locked in Arctic sea ice for the MOSAiC expedition. Webster will use MOSAiC data as a blueprint to evaluate and extend the seasonal capability of data from NASA's ICESat-2 satellite for sea ice research.
We did it. All leg 4 MOSAiC participants passed the coronavirus tests with flying colors. After spending 18 days in quarantine, we departed from Bremerhaven on Monday.
For the most part, everyone treated quarantine as regular work days. The ice team had daily coffee hours, where we virtually got together to learn more about one another, talk about the upcoming expedition, and describe the different views from our hotel rooms. Our meals consisted of meat, fish, or vegetarian based on our selection on our first day. The hotel staff would place our meals outside of the hotel room, knock, and walk (run?) away. They were kind to us. Additional highlights of solitary quarantine include: watching ducks and ducklings, seeing ships going in and out to sea, and admiring the gorgeous sunsets.
By the second week, we had tested negative for COVID-19 twice, which meant we could graduate to group quarantine. Group quarantine consisted of being able to walk outside our hotel rooms and having meals together, but we maintained strict social distance measures at all times and stayed within the hotel's perimeter. We had 30-minute slots for the gym, held group meetings, and underwent multiple types of training: safety, data management, and communications, all being valuable. Meeting everyone in person and feeling the sunshine and fresh air was an overwhelmingly positive experience.
48 hours before departure, we had our final COVID-19 test and received the results less than 12 hours later. The final day was spent packing, updating software and phone apps, downloading data, and making phone calls to family and friends. We also got our masks ready for the bus journey from the hotel to the two ships, the Maria S. Merian and Sonne.
Now we are in the North Sea, motoring along in sunny and calm conditions. We're in close communication with the leg 3 ice team, getting ready for the upcoming rotation and finding ways to optimize our limited time with one another. It's a surreal feeling that all of these moving pieces have come together, despite the challenges, and MOSAiC continues. To the north, we go!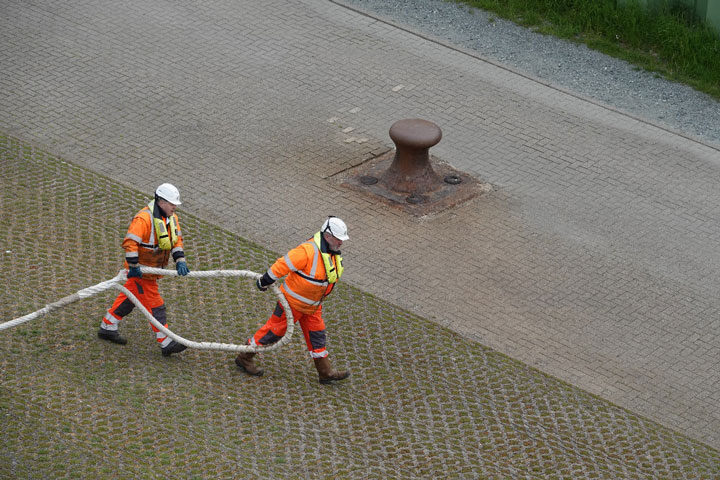 May 6th, 2020 by Melinda Webster/University of Alaska Fairbanks
Hi there, from 39,000'. I'm Melinda Webster, a sea ice geophysicist at the University of Alaska Fairbanks' Geophysical Institute. I'm on my way to the Multidisciplinary drifting Observatory for the Study of Arctic Climate (MOSAiC) expedition as the Ice Team Lead for Leg 4. Funded under NASA's New Investigator Program, I'll be using MOSAiC data as the ultimate blueprint to evaluate and extend the seasonal capability of ICESat-2 data for sea-ice research.
About 1.5 months ago, I was packed, medically cleared, and ready to fly to the R/V Polarstern from Alaska via Svalbard for the MOSAiC expedition. About 1.4 months ago, COVID-19 was declared a pandemic. Plans set so carefully into place vaporized within a matter of days.
After a false start, packing for a 4+ month expedition gets much easier. You have time to tie up loose ends, have more opportunities to talk with loved ones, and reluctantly finish off projects that were being procrastinated. And, in this case, enjoy the return of spring before heading into a world where the vibrant colors of budding trees and flowering plants are nowhere near. Instead, the Arctic sea-ice cover is a stunning realm with every blue and grey tone imaginable, and is certainly no less beautiful than springtime on land.
The COVID-19 disruptions have also given the MOSAiC Project Board and funding agencies time to compose a logistical masterpiece centered on safely continuing the MOSAiC expedition during a pandemic. Part of this masterpiece ensures that MOSAiC participants travel as safely as possible to the ship to successfully rotate the crew and scientists. Through the National Science Foundation, each U.S. MOSAiC participant for Leg 4 received a care package of personal protective equipment: masks, gloves, hand sanitizer, disinfectant wipes, disposable thermometers, and more. So far, my flights have been at least 50% empty, leaving ample breathing room, and 99% of people have donned masks.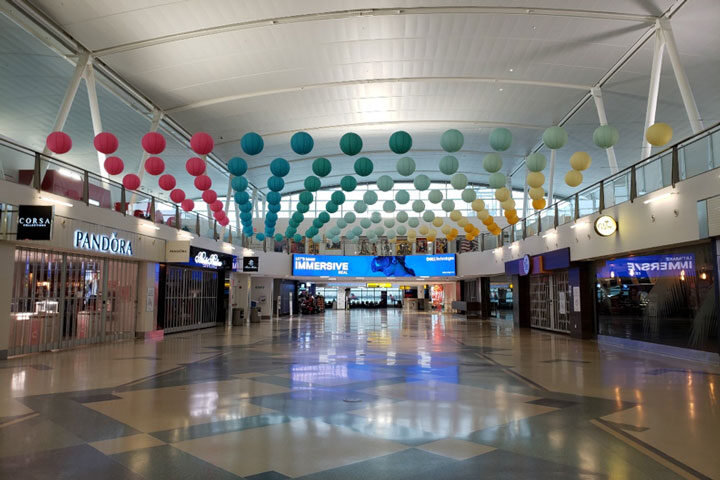 Upon our arrival in Hamburg, we're to be transported to a hotel in Bremerhaven to start a 2-week quarantine and a series of COVID-19 tests. Once clearing quarantine, tests, and safety training, we'll take two research vessels from Bremerhaven to Isfjord, the main fjord in Svalbard that leads to Longyearbyen. Although Norway is closed to visitors, we'll meet the Polarstern in this fjord to carry out the rotation without needing to step foot on land. I anticipate the experience will be overwhelmingly joyful. Our colleagues who set out for a 2-month expedition in February were instead given a 5-month tour due to the pandemic. I'm looking forward to relieving them of their work and continuing the time-series that will make MOSAiC an invaluable expedition and improve our use of ICESat-2 data.
April 28th, 2020 by Steven Fons/NASA GSFC
This past week we had the first polar bear sighting of leg 3. In the early morning hours, a curious male polar bear walked through the Central Observatory, checked out a few installations, played with a rubber fender, and continued on to about 800 meters from the ship. There it sat near a small crack in the ice for almost two hours, likely waiting for a seal to surface. It caused no damage and, given that no one was outside working at the time, led to very minor disruptions in our work.
Here on MOSAiC, we are always prepared for the possibility of seeing a polar bear while out on the ice. For one, our logistic team is incredibly experienced when it comes to working in regions where polar bears are present. During working hours, two logistics members are stationed on the ship – one on the bridge and one on the stern – with the job of scanning the horizon for polar bears and communicating with teams on the ice. Additionally, each scientist on MOSAiC was required to complete a polar bear safety course prior to coming onto the ship, which included a section on rifle safety. When out on the ice, each science party must have a "polar bear guard" with them whose sole task is to keep a careful watch for polar bears. The polar bear guard carries a rifle and a safety flare gun with them at all times as a precaution. The comforting news from the logistic team is that in their combined 50+ of years of experience in the Arctic, none of them have ever had to use a rifle on a polar bear.
It was pretty exciting to see a polar bear outside of a zoo for the first time. However, it also served as a gentle reminder to stay alert while on the ice. We may call this floe "our home," but now we've seen whose home it really is.
April 21st, 2020 by Steven Fons/NASA GSFC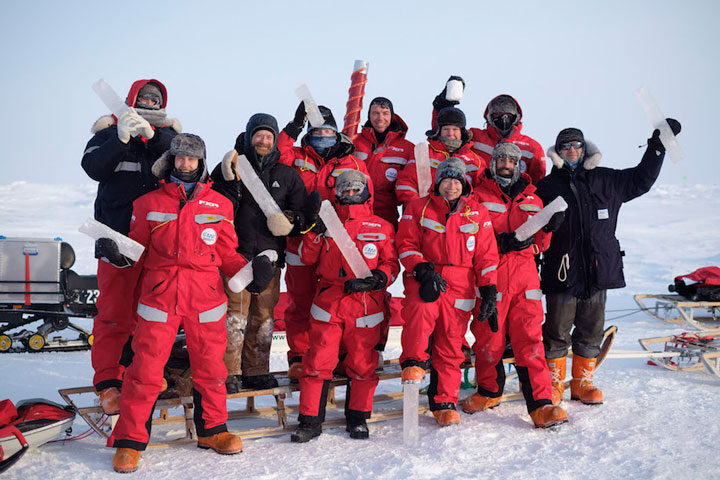 The main task I am involved with here on MOSAiC is the drilling of sea ice cores. Each week, a group of 10 scientists from the Sea Ice, Ecology, and Biogeochemistry teams goes out to two different "Dark Site" locations on the floe to drill ice cores that will be used in a variety of different experiments back on the ship. We call this large weekly effort "Coring Monday." Here's a sense of what this day looks like:
Sunday
Night: Coring Mondays always start the night before with the preparations and packing of the gear. We need lots of equipment: drills (with many, many extra batteries), saws, shovels, core barrels, and storage containers, just to name a few. I am responsible for preparing the data sheets for the next day and working with the team leaders to decide which – and how many – ice cores we will plan to drill. Most coring days we aim for between 30 and 40 cores total from the two sites.
Monday
07:30: Breakfast time. The whole team generally eats right away in the morning, and makes sure to have enough for the long day in the field. We also pack some food to eat for lunch out on the ice.
08:00: After a quick breakfast, the team meets to load all the coring gear onto the ice floe. Our whole operation requires 4 snowmobiles, each one pulling two 10-foot-long sleds filled with coring equipment. By 9:00, our teams are packed and ready to go. We are joined by two polar bear guards from the logistic team, and set off for the Dark Site. My team heads to the First Year Ice site (FYI) while the other group goes to core at the Second Year Ice (SYI) site. If you're lucky, you can get a seat on the snowmobile. Otherwise, it's a long bumpy ride sitting on the wooden sled.
09:30: After arriving to the site, our work immediately begins. I start with a snow pit analysis, measuring the depth, temperature, and density of the snow pack. The rest of the team prepares the gear and sets up the 2 working tents and 1 "warming-up" tent.
9:45: The ice coring begins. Two people work on drilling the cores, two people examine the drilled cores, note down features, and slice some for later processing; one person works between both groups, transferring the cores and facilitating communication. About half of the cores that are drilled get sliced up in the field into 5- or 10-centimeter sections, while others stay as full cores and get put into 1-meter-long bags.
The cores are drilled with a hollow barrel that has blades on the bottom and threads around the outside. As the blades cut into the ice, the barrel drills down, filling up the hollow space with a long cylinder of ice. The ice core can then be removed for slicing or packaging.
13:00: After a few hours of coring, it's time for a lunch break. Sandwiches and hot chocolate/tea help keep the energy up!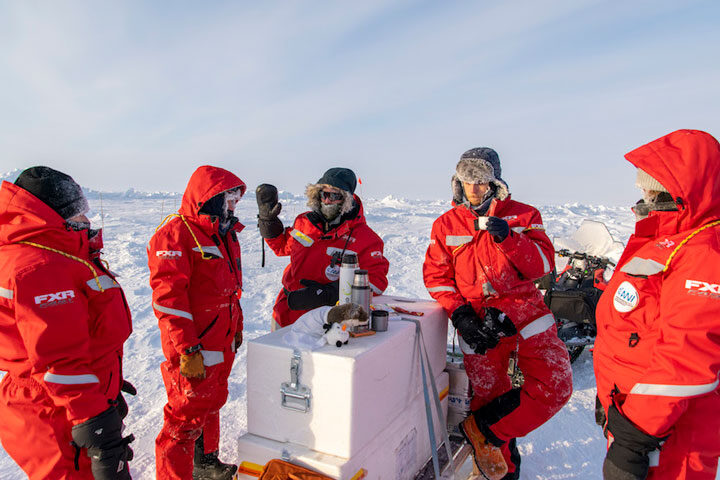 13:30: The coring continues. At the FYI site, the ice is typically around 1.7 to 1.8 meters thick at this time of year. This is ice that has grown since the end of last summer. The SYI site, on the other hand, is ice that started growing after two summers ago (hence the name) and did not completely melt at the end of last summer. The SYI, therefore, is generally around 2.2 to 2.6 meters thick. Most of the ecology and biogeochemistry teams' work is focused on FYI, so more cores are drilled there. The sea ice team is interested in the physical properties of the ice (salinity, temperature, density) and therefore takes an equal number of samples from both sites.
17:00: After roughly seven hours working in the field, we finally reach the end of our list. We start the clean-up by packing up the sleds and all of our gear, which is more or less the same procedure as the morning. The largest change, however, is that we've typically added around 40 meters worth of ice cores, which can weigh a few hundred pounds.
17:30: We arrive back to the ship to unpack all of the gear and distribute the ice cores to the various teams.
18:00: What we're most looking forward to by now: dinner!
19:00: After dinner, the work continues. We need to clean all of the gear that was used during the day, so that it will be suitable to work next week. This means rinsing off the salty seawater from all of the equipment.
20:00: Processing begins. Some cores need to be processed the same day, so many of us head to our labs to work on the samples that we drilled. I run some core sections through a centrifuge to remove and analyze the brine, and measure the ice density on other sections.
22:00: After a long day of work, it's finally time for bed.
The next few days will be filled with more processing of the ice core samples and entering data. Before long, it's Sunday night and we get to start the process over again.