Our adventure began in Vancouver, British Columbia, Canada on Wednesday, April 13th. After a solid day of driving up and over the Rocky Mountains, we arrived in Alberta on Thursday. Here are some photos from the drive. You can see our team mascot in the photos – a stuffed animal version of an American robin. His name is Chirpy, and we brought him along because Mrs. Christie-Blick's 5th grade class at Cottage Lane Elementary asked us to. You can see that the kids even outfitted Chirpy with a pretend GPS unit and string harness.
Check out our field site & meet our team!
On Thursday evening around 8:30 pm, we arrived at our field site in the boreal forest, where we will catch and tag 30 American robins over the next week to ten days. We are working and collaborating with scientists at the Lesser Slave Lake Bird Observatory (LSLBO) and the Boreal Centre for Bird Conservation, which are located just north of the town of Slave Lake, Alberta.
And, here's a photo of our team.  My Dad and I are on the far left. Willem is my super-handy Dad who has come along for the adventure and to help us with whatever we need help with – thanks Dad! Next to me are Ruthie and Brian, who are both graduate students at Columbia University in New York. Ruthie is working towards her PhD in Earth and Environmental Sciences at the Lamont-Doherty Earth Observatory, and Brian is working towards his PhD in Ecology, Evolution and Environmental Biology.  Nicole – our resident bird banding expert – is on the far right. Nicole is a bird biologist who has been working at the LSLBO for almost ten years. She knows a whole lot about the birds here, and how best to catch them!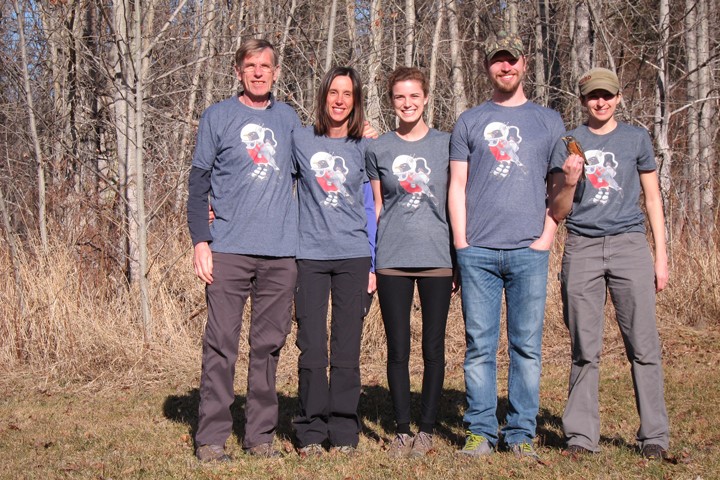 Check out our team T-shirts! Nicole drew this 'space robin' and we all liked him so much that we got some fun t-shirts made with him on it. If you looked through the set of slides I posted on the first blog post, you might be able to guess why Nicole drew the robin wearing a NASA astronaut's space suit. Any guesses?
If you haven't already figured it out, the robin is wearing a space suit because we are using information collected from satellites in outer space that are looking down at the Earth with special sets of 'eyes' that we call sensors. From these satellite sensors, we will learn about two main things:
First, some of the satellites – the GPS satellites – tell us exactly where the robins are as they are migrating. We'll call these the 'bird location satellites'. You can learn more about them here.
Second, other satellites tell us about the habitats the robins are using or avoiding as they migrate – like, if there is still snow on the ground, or if they are spending time in a forest or a grassland, if the plants around them are very dry or sitting in big puddles of water, or if there is a forest fire burning.  We'll call these the 'bird habitat satellites'. You can learn more about them here.
In addition, a third set of satellites will actually be used to transfer the information on where the birds are, from the bird, to me and my team once we're back in New York.  We'll call these the 'information transfer satellites'. You can learn more about them here.
Who knew that robins and satellites could work so well together?!
How to catch a robin
The first thing we did after getting a good night's sleep was to make a plan for how to catch 30 American robins.  I'd assumed that we'd be using the 'playback technique' where you play recordings of singing robins on one side of a mist net in the hopes that a curious bird hanging out on the other side of the net will fly into as she or he flies over to check out whose singing in their territory. I was familiar with this technique from my work on another project in Alaska, but Nicole had another idea that she thinks will work better to catch the robins migrating through our field site.
Nicole told us that the birds will be attracted to a bird bath because migrating robins are both thirsty and like to keep clean by bathing, but there's not a lot of water available to the birds at this time of year because the nearby lake is still frozen and it hasn't rained enough to create many puddles.  So we filled up a big plastic box with water (this is the bird bath), and put it in a nearby field. Then, we got an empty soda bottle, cut a little tiny hole in the bottom, and stuffed a small piece of blue sponge in it. Next we filled up the soda bottle with water and hung it upside down over the bath, so that drops of water would fall from the sponge – kind of like a shower. When the drops of water from the bottle hit the bath water, they make a 'drip drip drip' sound that Nicole thinks will attract thirsty robins!  We also put up four mist nets in a box shape around the bird bath so that any potential bathers would fly into a net on their way to/from the bath. Genius!  Here is a photo of the bird bath and net setup.
While we waited for robins to notice the bird bath and hopefully get stuck in our nets, we went inside to get ready for the first bird that we hoped to catch. Ruthie and I worked on testing the mini-GPS tags (made by Lotek wireless), making sure they were fully charged, and programming them to work once they're attached to a bird. Brian and Nicole worked on making the harnesses that the mini-GPS tags will be attached to, and my Dad went on a hunt for more harness material.
Not much time went by before our first American robin flew into a net, although it wasn't one of the bird bath nets, it was a net that the LSLBO's Bander in Charge (Richard Krikun) had set up about 2 km away for his own study. Thanks for sharing Richard!
Meet our first space robin: Trail Blazer
Meet 'Trail Blazer' – our first volunteer space robin!  Isn't he cute?
Here is a video and a picture that show how Trail Blazer was caught, how he was weighed, and then equipped with a harness and mini-GPS tag.
Once we were sure the harness and tag were secure and not bothering him, we took Trail Blazer outside and released him. He seemed to fly just fine with his new gear on, and perched for a while in a tree to do some feather rearranging. We hung out near him for about an hour to make sure that he was okay. Eventually he flew off confidently, presumably continuing his migration northwards.
Safe travels Trail Blazer!
Where is Trail Blazer migrating to and where will he start his family?
We won't know the answer to these questions for another two months from now because the mini-GPS tag that Trail Blazer is wearing will only send information on where he's been to the 'information transfer satellites' once, in mid-June. Not only did we program his mini-GPS tag to collect information on where he decides to start his family, but also to collect information on the migration route he'll take to get there! We programmed Trail Blazer's tag to record his location every two days from the day we caught him (today) until about June 15 when his mini-GPS tag will likely run out of battery power.  It's a long time to be patient and wait to find out where he goes.  While we're waiting, we've got 29 more American robins to catch and outfit with tags, so we'll have plenty to do to keep us distracted for a little while.
Check back here in a few days for more pictures, videos and space robin introductions!
Tags: ABoVE, Canada, Earth Expeditions, Migration Mystery, Robins, wildlife