May 2, 2011
We have completed most of our preparations and are ready for our flight to Swiss Camp tomorrow. Today was spent tracking down our final cargo items and getting every to fit into boxes and bags – a trip to the cargo warehouse, a run to the airport to load a plane, back to the warehouse to move a bunch of big boxes, a walk back to the logistics building for a pre-field briefing, a walk into town for last minute groceries, a quick lunch of musk ox burgers, warehouse again, airport again, rinse, repeat.
A total of three flights made it out to Swiss Camp today, and the pilots worked hard to get it all done. The plane we fly in to Swiss Camp is a DeHavilland Twin Otter (DHC-6), which is a turboprop that is 52 feet long and can carry a few thousand pounds of cargo and personnel. The ones flown in Greenland are outfitted with skis over the wheels to land on the snow of the ice sheet. The cabin is 18 feet long and about 5 feet wide, and it is amazing to watch all that can be packed into that space.
On the last load of today, the first thing on the aircraft was a snowmobile, followed by two 55-gallon drums of fuel. It already seemed like the cabin must have been pretty full, but added to this were a couple of big tent bags, seven shipping cases, each nearly the size of a washing machine, and a handful of miscellaneous smaller items. Every time I was sure the cabin was packed the pilots would shift things around and then call for more. In the end, we ran out of stuff before the pilots gave up trying to pack it all in.
Tomorrow Tom and I will fly fairly light with a 10-foot-long plastic sled, a couple dozen pipes, a dozen 70-pound batteries, and our personal bags.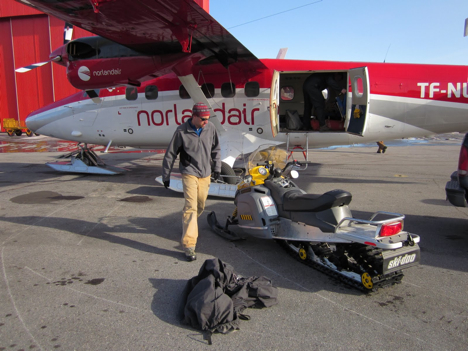 Once we are established in camp, we will begin our science work. This will consist of loading our pipes, batteries, cases, and GPS receivers onto a sled tied to the snowmobile, and driving 10-30 kilometers (5-20 miles) across the snow-covered ice sheet to various spots to install the stations. We have pre-selected locations surrounding the sites where boreholes will be drilled this summer using satellite images and datasets of ice thickness and the location of lakes that form on the ice sheet surface, but the final placement will also depend on things like time, weather, and ease of access.
After about 10 days of camping at Swiss Camp, our work will shift to its final phase, when we will fly by helicopter to the picturesque town of Ilulissat and visit our final site locations from there via helicopter.
Our communication from Swiss Camp will be limited, so, dear reader, we may have to fill you in on our exploits when we return. Stay tuned for the next installment, in which the pictures are likely to be much whiter and our clothing much puffier.
ROGUE: Real-time Observations of Greenland's Under-ice Environment
The goal of the ROGUE project is to examine the nature and cause of short-term ice velocity changes near Swiss Camp, Greenland, by observing interactions between the ice sheet, the atmosphere and the bed.