December 19th, 2018 by Christopher Hiemstra and Ludovic Brucker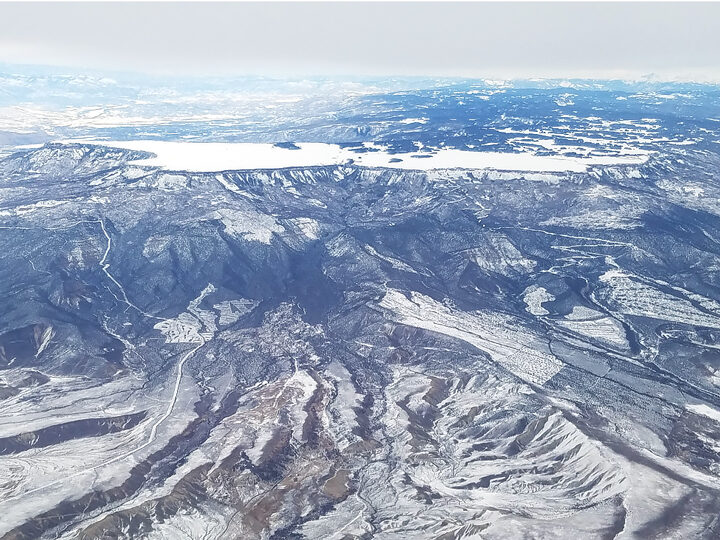 Ground validation measurements are an important part of working with remote sensing instruments like SWESARR. Snow is dynamic and changes occur as soon as it settles to Earth's surface. In a dry, windy place like Colorado's Grand Mesa, snow can move around, be packed into drifts, get intercepted in canopy, sublimate back into the atmosphere, and metamorphose into depth hoar as winter progresses.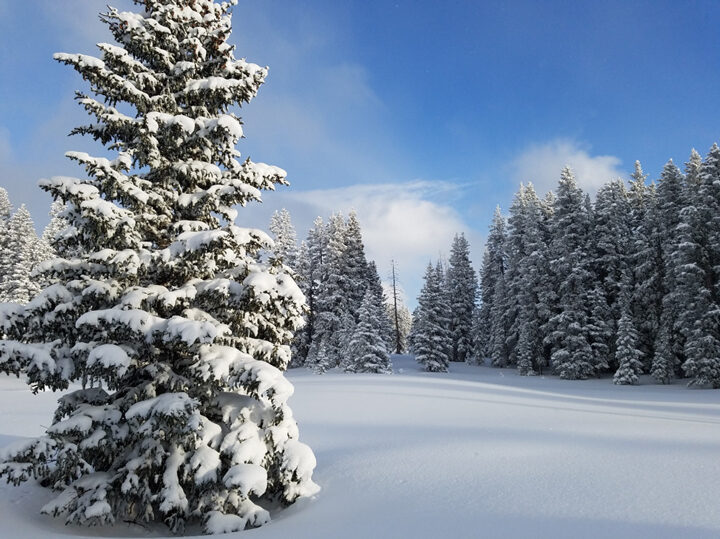 Ludo Brucker (NASA GSFC / Universities Space Research Association) and Chris Hiemstra (Cold Regions Research and Engineering Laboratory) were on Grand Mesa preparing for NASA SnowEx 2019. During the latter half of November 2018, Grand Mesa was blanketed in 40-70 cm (about 15-27 inches) of new snow from a series of storms. Fortunately, a short break in the weather with clear skies was forecast for the last SWESARR engineering flight. Optimistic plans to take early season measurements on Grand Mesa materialized.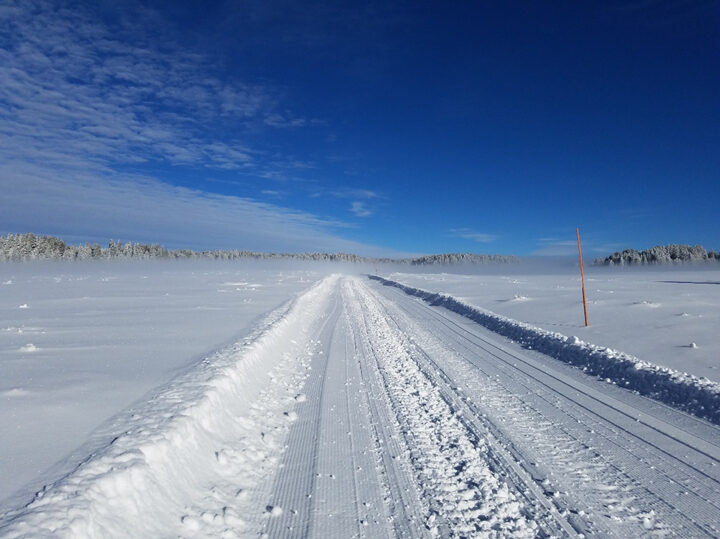 The only problem was that the flight lines were well out into the west end of Grand Mesa and the early season snow was new and deep. Chances of getting stuck on the way out there were high, especially as the route went uphill from Grand Mesa Lodge perched on the south side of Crag Crest. Fortunately, Grand Mesa Lodge owner Mike Renner grooms Grand Mesa snowmobile trails throughout the winter season and he groomed a route out to the west side of the Mesa the previous evening. On the morning of December 4, Ludo and Chris rode 11 miles to the west end of the Mesa.



Just as they arrived in the blazing sun, the drone of the Twin Otter carrying SWESARR and flying one of the lines could be heard. They cleaned out the radar reflectors, then set about collecting snow data. The corner reflectors are used to assess the airborne radar observations.



In all, five snow pits were performed and over 1500 snow depths were measured at various points along several pre-determined flight lines.



After a week of snowfall, welcome clear and calm conditions resulted in an outstanding day collecting ground-truth data useful for assessing instruments and algorithms for the early-season snowpack.


April 4th, 2018 by Kristina Mojica
Never Boring
"Wow, what an exciting life you lead" is a seemingly cliché response I get when the topic of what I do for a living comes up in casual conversation with strangers.  I know for a fact (from having to clarify enough times, as I'm sure everyone aboard has also) that those people envision a cruise departing from Puerto Rico to entail some sort of warm, tropical, Steve Zissou-esque adventure, a life of freedom upon the open ocean, studying the dolphins that happen to swim by, sipping cocktails after work, visiting exotic countries, basically anything just short of playing shuffleboard up on the lido deck, because, you know, it is a job after all.  If you've been following this blog, you've already gotten a hearty sense that those kind of Instagrammable moments, drinking coffee and watching the sunrise, is punctuated by the other 23 hours and 55 minutes a day of exhausting, dedicated work to the science mission.
The other morning I found myself chatting in the lab with Ben and Kay, wondering what to write about.  A prompt of "what do you do all day?" led to explaining there is really one goal I am setting myself out to achieve on any given day, week, or cruise.  And I'm still waiting, nearly 10 years later, to really achieve it.  The one goal I thought I almost had within my grasp on a few occasions, but the sea and the universe undoubtedly found a way to thwart in some way or another.  Boredom.  What?  Who has that goal?  Who wants to have a boring job?  What's wrong with this girl, is she crazy?  But to me, it means nothing is broken that I have to figure out a way to fix in the middle of the ocean.  It means a full night's sleep with no unexpected wake up calls.  It means I don't have to hang on for dear life to avoid getting tossed out of the shower in the morning.  It means I know what I am going to work on that day and have no reason it won't be done by the end of the day.  In the last week alone, I've woken up each morning thinking I'm in for just another day with my favorite NAAMES crew.  And then while recovering the optics instruments I end up wetter than when I stepped out of the shower a few hours before.  And then there's been a shift so we decide to drop what we're doing and take off for the next station.  And then a false alarm goes off in the fire system.  And then there's a major equipment failure that leaves us drumming up every ounce of creativity on how we are going to accomplish the rest of the scientific mission.  And then 50 knot winds kick up, throwing everything on the ship, literally and figuratively, for a loop.  Are you beginning to see where I'm coming from when I say I could really stand to have a boring day once in a while? (It's my ½ birthday today, maybe today will be my lucky day? Hi Mom! Hi Dad! Happy Anniversary! I digress…).
As much as I kid about longing for an Office Space-like existence where my biggest worries are the TPS reports I might have to come in on Saturday to finish (I come in every Saturday, it's not optional) and a printer that perpetually displays "PC Load Letter" (I already have one onboard that says that), being present and contributing to some of the most inspired research around is a truly humbling experience that I can't believe I'm lucky enough to be afforded.  Even more than the research that might one day make the news (I confess, it is beyond sweet to be able to point to an article and say "I was there, I did that!), it is the everyday conversations and discoveries that pique my curiosity and un-bore-ify (I make up words, it's a hobby) my life at sea the most.  The people and the instrumentation that NAAMES brings together ensures a never-ending dose of the kind of excitement that I don't mind coming along in an atmosphere where you can't help but get caught up in it.  In the same past week I described above, the aerosol teams detected some of the cleanest air on earth, where of all things, I'm most amused by the fact that the air is too clean to have my hot coffee produce any steam when I walk outside.  During humdrum CTD cast #9 of this cruise, we profiled nearly 65 degree Fahrenheit water mixed down to a depth of 600m…in the North Atlantic…in winter.  I've literally seen thousands of CTD casts in my life, and I've seriously never seen anything like that.  And those 50+ knot winds we saw a couple times this week?  I'm from California where any deviation from sunny and 75 degrees makes headline news, so it's really in the lousiest of weather that I'm always the first person outside watching the show.
This -something new around every corner- is the nature of the sea-going business.  No one can possibly predict what the final week of NAAMES will bring to the Atlantis, the scientists, and the crew aboard.  No telling what papers might come out of the research or what new questions or projects will be spawned, or what "remember when" stories the crew will still be telling about NAAMES in the years to come, but I'm pretty sure no one will tell you coming out here to study the North Atlantic was boring.
Written by Catie Graver (SSSG Technician)
April 2nd, 2018 by Kristina Mojica
At Sea
This is the second of the NAAMES cruises that I have been able to sail. The first was NAAMES #1, November, 2015, and I am lucky to be on this, the last of four cruises that were scheduled for this campaign. Having bookended these cruises, I recognize a couple of changes in both the NAAMES team and myself that have occurred over the course of the campaign.
The NAAMES team: The Chief Scientist and Principal Investigator of this mission, Mike Behrenfeld, built a team of scientists to answer questions about the North Atlantic Bloom and its atmospheric impacts. Many of the team members were unknown to each other at the start of this campaign because they came to NAAMES from disparate disciplines: biological, chemical, and physical oceanography, microbiology, virology, atmospheric chemistry, atmospheric physics, and ecosystem modeling. Annual team meetings encouraged healthy cross-talk. After four cruises and three team meetings, there is comradery built by hard work, innovation, and curiosity. There is respect for the variety of scientific approaches and expertise. This team functions smoothly on the R/V Atlantis. And, perhaps most importantly, shared purpose has gathered momentum leading to new and unexpected contributions to ecosystem science. This team embraces hard work and laughs easily in the labs, on deck, in the galley, and even during daily science briefings. Earlier hesitations have given way to relaxed dialogue and fresh ideas.
I was full of nerves during NAAMES #1. Worried about our instrumentation (i.e., would the turbo pumps survive the incessant bouncing of the ship?, Would the flow controllers function?, Would the automated valves switch properly?). I worried about getting seasick. Worried about the medication to prevent seasickness. Worried about the General Microbiology class I left midterm in the hands of a colleague. Worried about the myriad of "things that need to be done at home." …..Fast forward….By NAAMES #4, I have developed confidence in the instrumentation (and Cleo Davie-Martin, who is the PTR-MS conductor-extraordinaire). New experiments have been added with each campaign. Turns out, seasickness medication was unnecessary. I am blissfully aware that the internet is too slow to catch up on the news. The sunrise is a priority, even while working*.
Leaving worrying behind allows for a certain kind of freedom at sea. Contemplation becomes less constrained. Time allows thoughts to forge new paths through unexplored jungles dotted with boulders to leap and bridge to new ideas. Once in a while these thought-explorations lead to a clearing where I mentally stack stones into a duck or blaze the bark of a tree so that the idea can be revisited and won't be lost in the weeds. What a spectacular treat to let these thoughts bound along without the daily distractions that I apparently allow to seep in and prevent freedom of exploration. At sea, exploration of ideas is less encumbered by rules of engagement. Perhaps the rarest of scientists are always "at sea," never dithering with boundaries and are instead free to meander across scales, dimensions, and disciplines, eventually emerging with unexpected and shattering ideas.
For non-sailors, to be "at sea" usually implies confusion or disorientation. As in, "She was at sea with String Theory." On the contrary, my definition of "at sea" as of NAAMES #4 has evolved to mean freedom of exploration.
Written by Kim Halsey
April 2nd, 2018 by Kristina Mojica
A New Adventure
NAAMES #4 is my first long-term ocean-going research cruise. The anticipation built as I prepared to leave my husband and Paisley, my golden retriever, at home for an entire month. Did I pack everything that I need? Would the food be good? Would I enjoy the experience? Yes, yes and yes!
Not only have a learned a lot from the other scientists around me, but I have enjoyed the experience and built new friendships along the way. There are now only 10 days left at sea, and I can say with confidence that I am happy that I have participated in the NAAMES campaign.
Not only was the field-work a new experience for me, but the research was as well. Coming from a microbiology background, atmospheric science and the study of aerosols was completely new to me as I started this journey. However, I was excited and anxious to learn something new. The collaboration among biologists and aerosol scientists has been rewarding as we are all here for the same goal, to learn more about the North Atlantic phytoplankton bloom.
Written by Alyssa Alsante
March 27th, 2018 by Kristina Mojica
Fourth and Ten (+ One)
Fourth:
We are currently at the first station to be occupied by the fourth and final NAAMES field campaign. It is a bittersweet experience both scientifically and personally. This station represents the final push of an epic joint exploration of marine and atmospheric sciences made possible by the thoughtful investigators who wrote the interdisciplinary proposal; a proposal that NASA found compelling enough to fund and was ultimately made possible by politicians and taxpayers who know that we move society forward through scientific endeavors. I would be amiss not to mention the crew(s) of the R/V Atlantis, our mother ship for all campaigns, who provided a professional, safe, and inviting atmosphere for what must seem like slightly controlled chaos to take place.
As participants we look back and see what we have done right, evaluate and discuss our amazing findings, and feel proud of our contributions to the larger fields of marine and atmospheric sciences. We also have enough hindsight from the past few years to look back and see what we will do even better next time. For many of us, it also represents an era in our careers, ranging from providing the experience and data to build and help finish graduate degrees, bolstering mid‐career scientists, and providing fresh ideas and avenues of exploration to more seasoned scientists. It will, and has already, created new collaborations, publications, proposals, and challenging concepts to tackle in the future.
That is the number of people, both scientific (10) and ship's personnel (1), who have participated in all 4 of the seagoing campaigns. What the ten people pictured above represent is the consistency between cruises that is critical to the successful training of new team members and implementation of the planned science. What is not represented above are the countless people who were here for 1, 2, or 3 voyages who bring fresh personalities, flavors to the galley, and ideas that can motivate, enlighten, and ignite new relationships and scientific curiosities. "Thank you!" to those on the ship, in the air, and on the ground who made all of this possible and successful.
Written by Jason R. Graff