DBH (diameter at breast height)… 3.7 cm, killed by fire, severity 2, … adventitious roots at 7 cm (adventitious roots are small additional roots that larch trees have that help determine the depth of burning in the organic soil layer). Those are the words that would repeatedly disturb the forests' eternal silence, besides the occasional call of a black woodpecker. This routine is part of making an inventory of the many trees (varying from roughly 50 to more than 300) that cover the 30 meter by 2 meter transect that is laid out in the field plot of interest. Such a transect is selected based on homogeneity in fire effects and assumed to represent a larger area of 30 by 30 meters, the size of a Landsat satellite pixel. This enables the direct comparison of ground s and satellite observations, which is in turn essential for upscaling to regional or continental scale estimates of available biomass and combustion.
Our science team is in Batamay now, a small village about 170 km North of the capital of Yakutia and the coldest city on Earth, Yakutsk. Compared to our previous location, Ert, this is farther away from the main cluster of large fires that plague Siberia right now. However, fires are also active here, as I witnessed during my flight from Amsterdam to Yakutsk.
In order to get to Batamay, we had to drive for multiple hours and cross the Lena river by boat. The boat trip was not exactly like the luxury Lena river cruise that can be booked to visit the well-known 'Lena pillars', but it brought us to our study destination. After reaching Batamay, we continued our travels using one of these typical sturdy Russian vans to the designated camp site for a week of camping inside the burn scar that we wanted to measure. This burn scar is the result of a particularly high severity fire from 2017. The current science indicates that fires in Siberia are mostly low severity surface fires compared to the high severity crown fires in boreal North America. The high severity core of the Batamay burn scar may be out of the ordinary and attracted our interest. Could Siberian fires locally be more severe than thought and do we underestimate their emissions? Furthermore, what does this potential of high severity fire in Siberia mean for the future fire regime in a changing climate?
On the way from Yakutsk to the burn scar we have had some fine demonstrations of the Yakutian approach to problem solving. Little time is spent on overthinking possible issues beforehand, and instead problems are solved on the spot. Surprisingly, this method has been successful in every occasion we experienced an obstacle. For example, when a stretch of water is too shallow for a boat to float or a road too muddy for a car to cross, the consequences are faced instead of avoided, but always solved afterwards. This radiates a certain simplicity and relaxed approach to life that is almost fully opposed to the scientific approach and might be hard to relate to as westerners. What do the locals actually think of our complicated scientific instruments and methodologies? Sadly this is hard to say, because of the locals' Yakutian language which is closer to Turkish than Russian (as if Russian wasn't hard enough already) and introduces multiple new letters to the Cyrillic alphabet. And also because the locals are not men of many words anyway. However, like everyone else, these people also notice the effects of climate change, such as warmer winters and more heavy rain spells, such as the recent floods near Irkutsk
At the camp site, we were accompanied by five locals from Batamay: a guard, a driver, two cooks, and a guard dog. It was comforting to have this company and it is safe to say that this made all of us sleep better at night. In a matter of minutes a patch of tall grass was transformed into a cosy camp site including a fire place, picnic table and food warehouse, all made from the branches and logs available in the forest, and some old containers used previously by road constructors. Another great example of what you can construct from logs: a trailer able to withstand all bumps we faced on the road.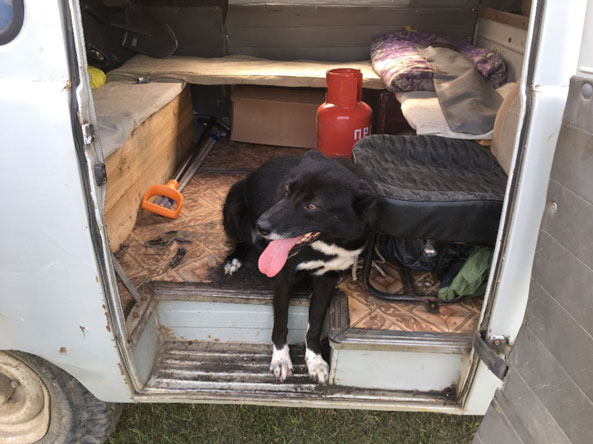 During our camping stay in the Batamay burn scar we have collected data from 24 field plots with varying degrees of fire severity. The coming week we will stay in a house in village and we will venture out in the fire scar again. Now we will focus more on unburned 'control' plots. This allows the comparison of the situation before and after the fire, which gives invaluable insight in quantifying the greenhouse gas emissions from the fire.
This field campaign is part of the 'Fires pushing trees North' project funded by the Netherlands Organisation for Scientific Research (NWO) and affiliated with NASA ABoVE. This blog post was written by Dave van Wees, PhD student at Vrije Universiteit Amsterdam, studying global fire emissions using satellite data and biogeochemical modeling.
Tags: ABoVE, FireExpeditionSiberia2019, FiresPushingTreesNorth, NASA, NOW, vuamsterdam