By Clement Miege
Hello everybody! This is Clement, for my first blog post! Sunday, November 27 was our day off, so we went exploring the surroundings of McMurdo Station. At around noon, Michelle and Lora decided to go cross-country skiing on sea ice while Jessica and Randy went to Scott Base for some shopping at the Kiwi store, which is stocked with lots of Antarctic T-shirts and other souvenirs.
On our side, Ludo and I took advantage of the wonderful weather and hiked the Castle Rock loop. I hiked this trail last year and it is by far my favorite walk near the station. We started at the fire house at around 11:30 AM. Because the trail is pretty long (9.8 miles), we were required to take a radio with us and give our estimated return time and the contact info for our point of contact in town to the responder on duty at the firehouse.
The walk toward the summit of Castle Rock is very pretty, with amazing views everywhere: behind us, we had Mount Discovery and the Royal Society Mountain Range. In front of us, we had incredible scenery with Castle Rock in front of Mount Erebus and Mount Terror. While approaching Castle Rock, we were able to enjoy a nice scramble leading us to the summit, with fixed ropes set for safety on the ascent. After a quick break at the summit, where it was really windy, we decided to head back down.
Here is our hike in pictures so you can enjoy it as well.
It took us about 4 hours to walk/slide through the whole loop. In fact, we cheated a little bit, taking advantage of the last shuttle to go back to McMurdo station from Scott Base, which knocked off about 2 miles. It was a wonderful trip; it was good to be outside while the weather was nice!
But that wasn't the end of our day! After dinner, Jessica, Randy, Ludo and I went with a small group to Pegasus runway, an airfield near Mc Murdo station, to visit the remnants of a plane that crashed in 1970 and got stuck in the ice. It took us an hour to get there, travelling in a Delta. After spending a little time checking out the plane, we got back to the station at around 8:30 PM, ready to go to bed after a long day of adventures outside.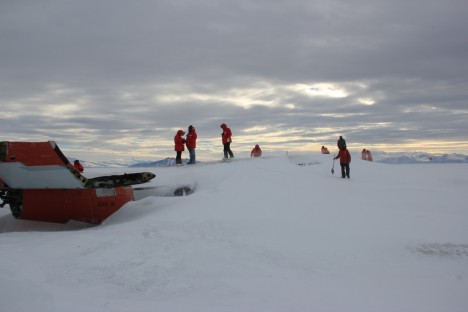 Here are some bits of info that I was able to collect on this crash, where fortunately nobody died. The plane, a C-121J named Pegasus, took off from Christchurch, New Zealand in October 1970. The flight to McMurdo went well until a storm started developing near the runway. Unfortunately, the flight had already passed the point of safe return, which meant that it did not have enough fuel to make it back to Christchurch. The only choice remaining was trying to land with no visibility. After a long time circling above the runway to get a little bit of visual information, the pilots attempted to land and the plane slid into a heavy snowdrift deposed by the storm, spun and broke its entire right wing and finally stopped. Luckily, nobody died in this accident.
If you would like to get more information on this story, follow this link.
Now this site is becoming a touristic attraction but it still shows a part of the Antarctic history. After this dramatic event, more precautions have been taken to allow planes to boomerang back to Christchurch if they run into bad weather.
Tags: Antarctica, Castle Rock, ice, McMurdo, Mount Erebus, NASA