March 28th, 2011 by Kelly Brunt

MABEL: Flying on a high-altitude aircraft at the brink of space, the MABEL instrument is helping scientists to simulate measurements from NASA's next ice-observing satellite, ICESat-2.
Palmdale, Calif. – MABEL had a very successful second flight on March 24!
Taking off from NASA's Dryden Aircraft Operations Facility in Palmdale, Calif., we flew a second flight over the region for what we call our 'shakedown' mission.
This time, we flew targets in reverse direction to ensure that we had quality data over the open ocean. Our pilot flew southwest over the ocean until he found breaks in the morning marine layer, typical off of the coast of California. Once MABEL was back over land, the pilot reported that the weather was completely clear for the rest of the mission, which extended as far east as Lake Mead.
For this flight, we are testing some of MABEL's unique capabilities, such as her variable field of view. This 'shakedown' mission is allowing us to assess that capability.
March 27th, 2011 by Kelly Brunt
MABEL flies aboard NASA's ER-2, which is a research version of the Air Force's U2 reconnaissance aircraft. MABEL specifically flies in the nose cone of the ER-2.
The ER-2 is special because it flies at a very high altitude. MABEL's data is collected at approximately 65,000 feet above sea level, putting the instrument above much of the dense part of the atmosphere.
The ER-2 has 2 wheels, one behind the other, both running down the center of the aircraft (photos below). It takes off and lands with the assistance of 'pogos' on the ends of each wing. Pogos are temporary wheels that fall off immediately after take-off. When the plane lands, and slowly comes to a full stop, it generally tilts to one side or the other and rests on skids that are on the tip of each of the wings. Then the ground crew has to be manually reattached the pogos.
Flying at 65,000 feet above sea level, the pilots are in pressurized suits, much like astronauts. So the process of getting the pilot into the aircraft and off the ground takes longer than it would for other aircraft. The pilot actually comes to the aircraft in a life-support vehicle and carries with him a unit that helps bring him oxygen and keep him cool prior to takeoff (photos below).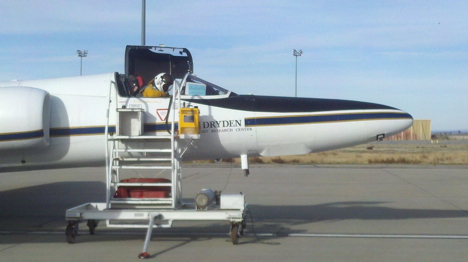 To follow the ER-2, either with MABEL or on other missions, follow @NASA_airborne on Twitter.
More later about the ER-2 …
March 27th, 2011 by Kelly Brunt
March 25, 2011
This past Tuesday (3/22), MABEL had her first successful flight of 2011!
After just a day of hooking MABEL up to the aircraft and checking out her systems (image below), we flew the instrument on what we consider to be a 'shakedown' mission. We flew a route local to the Dryden Flight Research Center that is also used by Operation IceBridge. It allows us to ensure that MABEL, and a secondary instrument onboard the aircraft, are operating smoothly. This flight path also covers a lot of different types of terrain, such as Lake Meade, the Pacific Ocean, mountains, and deserts. These varying terrains allow us to assess MABEL's performance. Additionally, because we are flying an established route for IceBridge, we have data with which to compare MABEL.
Prior to each flight, we have a weather briefing with the pilots. That happens 3 hours before the flight. So at 6:00 AM, two members of our team stumbled into the hanger to assess the weather with the pilots.
Then, around 9:00, the aircraft took off (image below). It turns out, most of the route was pretty nice … except for over the ocean, which is what we really needed, as that was missed during the December mission.
We'll have to get ocean data on the next flight.
Tomorrow, I'll write a bit about the aircraft associated with MABEL …
March 25th, 2011 by LCDR John Woods
March 19, 2011
With three sea ice flights successfully behind us, and the airport being closed on the weekend, we had a day off from operations, and took advantage of the great activities that are coordinated by the Community Center here at Thule AFB.  Today's trip was a hike to the Ice Cap.  About two dozen folks (mixture of Air Force Personnel, Danish Workers, and NASA IceBridge Team Members) piled into 4×4 trucks, and headed off base about 20 minutes drive.  The last 5 minutes of the drive was "off-road" and we went as far as we could until 2 trucks got stuck in the snow.  After a few minutes of shoveling and getting everyone back on sturdy ground, we took off for the 45 minute hike to the ice cap.
It was a pleasant walk, over mostly hard ground, with some areas of soft snow making for a good work out.  We took several short breaks to stop and listen.  The silence was incredible.  There was no breeze, and absolutely no noise.  No cars, no power poles, no animals (that we could see at least), just absolute silence.  It was a very cool experience.  We arrived at the area where the ice cap is exposed, and took some photos.  The exposed blue, white, and brown banded ice was another breathtaking sight that I had never experienced before.  After another few hundred yards down the trail, we arrived at the sledding hill with another amazing vantage point after climbing to the top.
On the walk back, I found some fox tracks in the untouched snow that made for a great photo.  There was no sign of the fox around, just for its left over paw prints in the fresh snow.
We finished the walk with some Hot Chocolate and cookies, warming up and swapping stories about each person's favorite part of the hike.
March 25th, 2011 by MIDN Eric Brugler
March 18, 2011
Today we flew again and went right by the North Pole!  The NASA P-3 went 2 degrees to the left of it, if you picture looking straight down on top of earth!
The flights are usually about 7-8 hour missions so I woke up early and went to breakfast.  After we got on our track over the sea ice, it was difficult to get good measurements because the clouds were so thick (the Lasers need clear skies).  So the plane went to 1000 feet, which is very low. This made it exciting to look out the windows and see the sea ice below passing by really quickly. After we descended though, the laser altimeters began working better and collecting good data.
We landed around 1530 and I headed back to the North Star Inn to meet with a NOAA scientist Larry Connor. Dr. Connor wrote a paper looking at laser and radar altimetry measurements, so it was great getting to ask him questions about his work.  In just a twenty-minute conversation with him, he was able to answer all the questions that were forming in my head from hours of reading and studying his paper. Tonight is my last night here so I went to the Top of the World club to say my goodbyes to all the engineers and scientists I got to meet during my trip to Thule AFB, Greenland.
I learned so much in my short week here; all the equipment onboard is so complex and it measuring features of the Arctic in order for scientist to study the change this environment is undergoing.
It was reassuring knowing that there are so many intelligent and hard working people looking at the poles and trying to understand the dynamics of them. I am excited to continue studying polar oceanography and hope to continually learn more as I pursue a higher education in graduate school.