Storms stronger than Tropical Storm Nalgae have lashed the Philippines in 2022, but the extreme rainfall unleashed by Nalgae in late October 2022 spurred landslides and flooding, making it among the season's deadliest and most destructive storms to hit the island nation.
Tropical Storm Nalgae (locally called Paeng) struck the Philippines on October 29, 2022. The storm's center tracked across the northern part of the country, but wide rain bands swamped areas to the south, including the hard-hit Maguindanao del Norte and Maguindanao del Sur provinces.
Flooding in Maguindanao del Norte is visible in this image (right), acquired on October 30, 2022, with the Operational Land Imager-2 (OLI-2) on Landsat 9. For comparison, the left image shows the same area in August 2022, acquired with the OLI on Landsat 8.
Floodwaters swamped Cotabato City, and several nearby towns. Notice the dark brown floodwater visible in Upi and areas south. Wet, marshy areas were present along the rivers even before the storm. But after the storm, the water became discolored by sediment stirred up by rain and floods. Plumes of this sediment-laden water dispersed into Moro Gulf.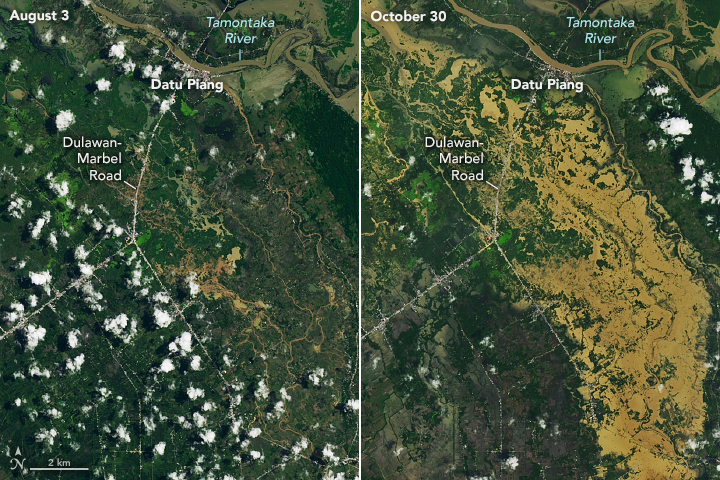 The heavy rainfall induced numerous landslides across the area. Debris flows buried homes in the coastal village of Kusiong (cloud-covered in this image) and lined the nearby mountain slopes. According to news reports, the storm is responsible for the deaths of almost 100 people—many due to the debris slides—and dozens remained missing.
After hitting the Philippines, Tropical Cyclone Nalgae moved over the South China Sea. Winds from the storm were expected to begin affecting mainland China by midweek. The Western Pacific typhoon season extends throughout the entire year, but most storms usually form between May and October.
NASA Earth Observatory images by Lauren Dauphin, using Landsat data from the U.S. Geological Survey. Story by Kathryn Hansen.