This page contains archived content and is no longer being updated. At the time of publication, it represented the best available science.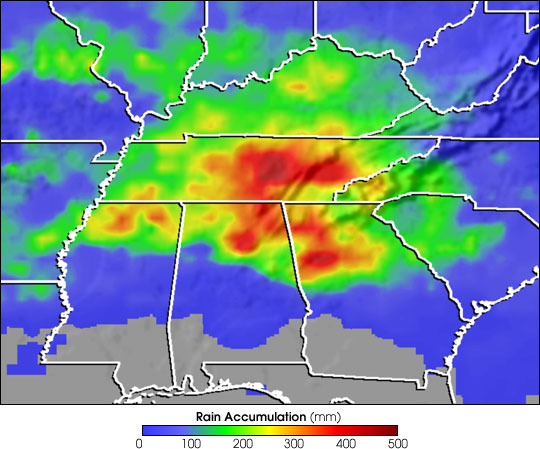 A spate of severe thunderstorms brought torrential rains and tornadoes to a number of states in the southeastern U.S. last week. Tennessee was among the hardest hit by the storms, which dumped more than 10 inches of rain during one 24-hour period (May 7-8). The inevitable result has been flash flooding in some areas—for example, the Tennessee River near Chattanooga swelled to 6 feet above flood stage on May 7 even as forecasts called for more rains later in the week. Luckily, there have been no fatalities reported from the floods, but a number of homes and businesses were inundated.
This map shows rain accumulation rates across the southeastern United States for the period May 4-9, 2003. More than 16 inches of rain fell over much of Tennessee as well as parts of Alabama and Georgia, as indicated by the red pixels. The map was produced using data from the NASA/NASDA Tropical Rainfall Measuring Mission (TRMM). The satellite carries an onboard Precipitation Radar that allows scientists to accurately gauge rainfall over most of the world every three hours. Scientists are now using TRMM data to produce daily maps of areas that are highly prone to flooding due to heavy rains, from 50 degrees north latitude to 50 degrees south latitude. (Click to read the NASA press release: Unique NASA Satellite Watches Rainfall from Space.)
For more information about TRMM, or to obtain precipitation maps and other images from the mission, please see http://trmm.gsfc.nasa.gov.
Image courtesy Hal Pierce and the TRMM Science Team, NASA GSFC