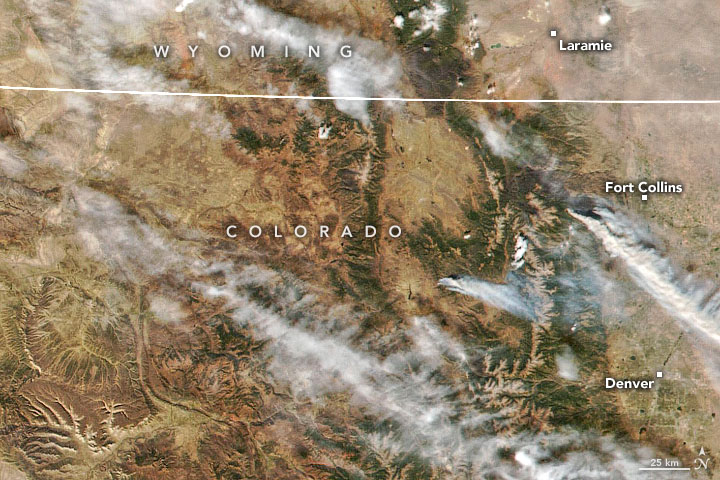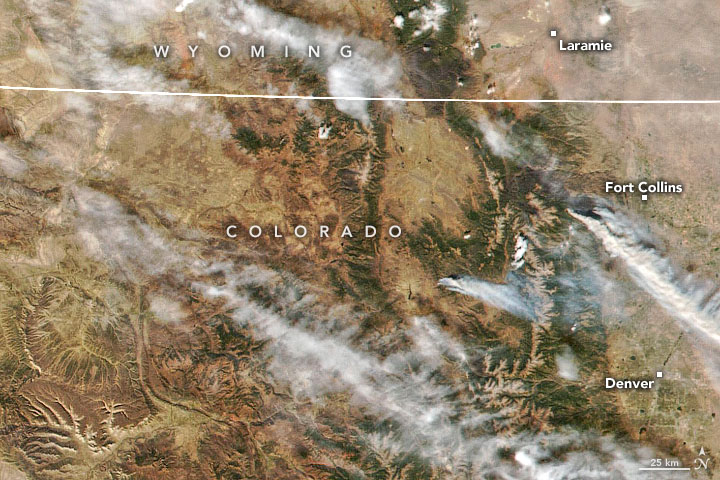 For much of the United States around and west of the Rocky Mountains, the summer and autumn of 2020 have been rough. Nearly 80 percent of the region is facing some level of drought, affecting 40 million people. Heat waves have intermittently baked various regions of the Southwest. And wildfires have raged, fueled by unusual lightning storms, parched vegetation, and other hints of a changing climate. The natural drama has been punctuated by the fact that Colorado and California have set records for the largest fires (by area) in each state's history.
In northern Colorado, the Cameron Peak fire had consumed 206,000 acres (320 square miles) in the mountains west and northwest of Fort Collins and Estes Park by October 21, 2020. The fire ignited on August 13, and has burned through thick timber stands on rugged terrain in Arapaho and Roosevelt national forests. The natural-color and infrared images above were acquired on October 16, 2020 (the most recent clear view) by the Visible Infrared Imaging Radiometer Suite (VIIRS) on the Suomi NPP satellite.
Conditions significantly declined in mid-October when strong winds and persistently dry weather fanned the flames. As of October 21, more than 1,500 firefighters were working at the site, and the fire was 52 percent contained. However, weather forecasters issued "red flag warnings" for fire weather in expectation of 40 mile-per-hour wind gusts and extremely low humidity. On October 21, the U.S. Forest Service (USFS) temporarily closed public access to all national forest land in Clear Creek, Jefferson, Gilpin, Boulder, and Larimer counties in order to prevent new fires. "The number of large fires and extreme fire behavior we are seeing on our forests this year is historic," said USFS forest supervisor Monte Williams in a statement.
The Cameron Peak fire is now the largest in Colorado's recorded history, surpassing the record just set in September 2020 by the Pine Gulch fire (139,007 acres burned). The previous benchmark was the Hayman fire of 2002, which consumed roughly 138,000 acres. The outlook for Colorado fires in the coming week is not promising, as no serious rain or snowfall is expected soon. According to the U.S. Drought Monitor, 100 percent of the state is in some stage of drought; 59 percent of it is considered extreme to exceptional.
Acquired on October 19, 2020, by the Operational Land Imager (OLI) on Landsat 8, the image above shows the burn scar from the August Complex fire in Northern California.
Ignited by lightning storms in mid-August, the fires in this area had consumed 1,032,264 acres by the morning of October 21 and were still burning (though 91 percent contained). The fires consumed tall grass, chaparral, and timber across seven counties and parts of Shasta-Trinity, Mendocino, and Six Rivers national forests, becoming the largest in state history. More than 610,000 acres of Mendocino National Forest (which is within the August Complex) were burned in 2020, just two years after what had been the largest fire in state history (459,000 acres).
According to the California Department of Forestry and Fire Protection (Cal Fire), more than 4.13 million acres (6,450 square miles) of the state have burned in 2020 in 8,685 incidents. More than 9200 structures have been damaged or destroyed and 31 people have died. Five of the six largest fires in California history have occurred in 2020.
NASA Earth Observatory images by Joshua Stevens, using Landsat data from the U.S. Geological Survey and VIIRS data from NASA EOSDIS/LANCE and GIBS/Worldview and the Suomi National Polar-orbiting Partnership. Story by Michael Carlowicz.