This page contains archived content and is no longer being updated. At the time of publication, it represented the best available science.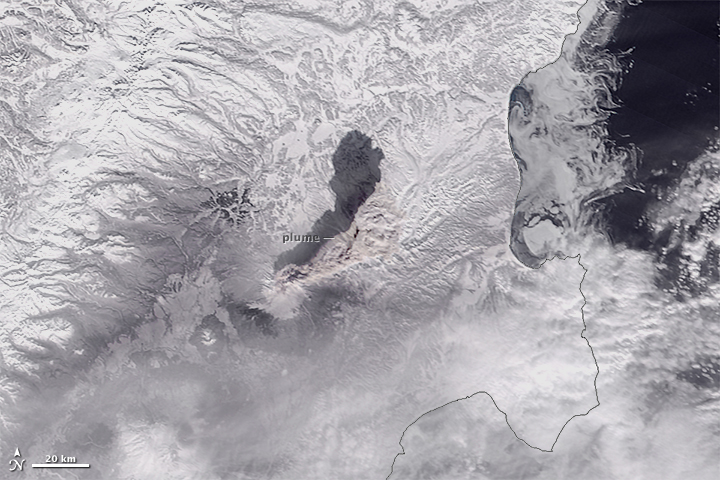 Shiveluch, one of largest and most active volcanoes on Russia's Kamchatka Peninsula, continued activity in February 2015 with explosive events toward the end of the month.
The Moderate Resolution Imaging Spectroradiometer (MODIS) on NASA's Terra (top) and Aqua (middle) satellites acquired these images of ash from the volcano on February 28, 2015. The images together, acquired 10 minutes apart, show the ash advancing toward the northeast (bottom).
According to the Kamchatka Volcanic Emergency Response Team (KVERT), the volcanic plume on February 28 reached an altitude of almost 9,000 meters (30,000 feet). News reports say that the ash ultimately made it across the Bering Sea into western Alaska, where it disrupted air travel.
Further Reading

Kamchatka Volcanic Emergency Response Team (2015, February 28) Sheveluch Volcano. Accessed March 2, 2015.
Smithsonian Institution Global Volcanism Program (2015) Sheveluch. Accessed March 2, 2015.
CNN (2015, March 1) Alaska flights canceled over ash from Russian volcano. Accessed March 2, 2015.
NASA image courtesy Jeff Schmaltz, LANCE MODIS Rapid Response Team at NASA GSFC, with adjustments by Joshua Stevens. Caption by Kathryn Hansen.