This page contains archived content and is no longer being updated. At the time of publication, it represented the best available science.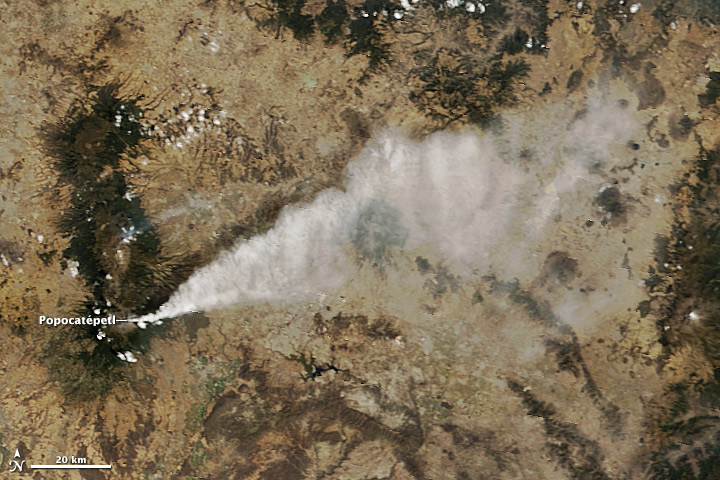 Mexico's Popocatépetl Volcano released a plume in early March 2013. On March 8, Volcano Discovery reported an ash plume reaching roughly 1,500 meters (4,900 feet) above the volcano crater, or about 7 kilometers (4 miles) above sea level. On March 6, the Ozone Monitoring Instrument (OMI) on NASA's Aura satellite detected elevated levels of sulfur dioxide in the region, and the U.S. Air Force Weather Agency warned of potential ash and steam emissions the next day.
The Moderate Resolution Imaging Spectroradiometer (MODIS) on NASA's Terra satellite captured this natural-color image of the plume from Popocatépetl on March 7, 2013. The plume blew eastward away from the volcanic summit. The northern edge of the plume was thick enough to hide the land surface from the satellite sensor's view, as well as cast a shadow.
Located roughly 70 kilometers (45 miles) southeast of Mexico City, Popocatépetl is a stratovolcano composed of alternating layers of volcanic ash, lava, and rocks ejected by earlier eruptions. It reaches an altitude of 5,426 meters (17,802 feet) above sea level, and it is one of Mexico's most active volcanoes. Historical records, including Aztec codices, record frequent eruptions from Popocatépetl.
NASA image courtesy Jeff Schmaltz, LANCE MODIS Rapid Response and Robert Simmon. Caption by Michon Scott.