This page contains archived content and is no longer being updated. At the time of publication, it represented the best available science.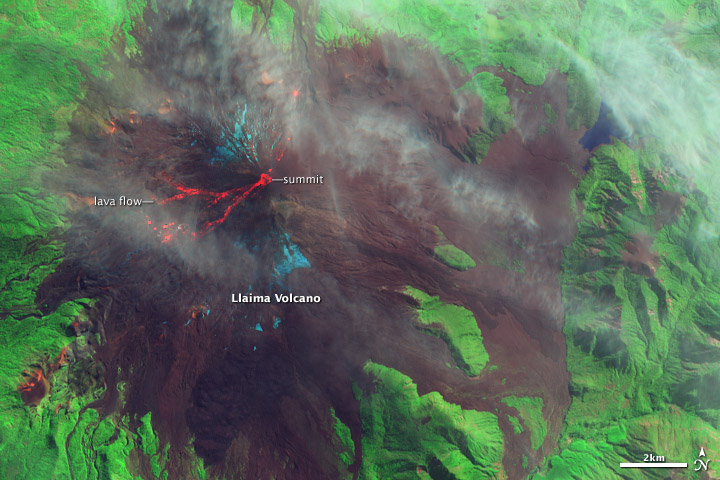 After a 74-hour period of explosive bursts of activity, Llaima quieted late in the day on April 6, 2009. The volcano's activity subsequently consisted of weak gas and volcanic ash emissions, according to Chile's Servicio Nacional de Geología y Minería.
The Advanced Land Imager (ALI) on NASA's Earth Observing-1 satellite captured this image of the Llaima Volcano on April 8, 2009. In this false-color image (shortwave-, near-infrared, and red wavelengths of light), bright green indicates vegetation (even sparse vegetation), dark brown indicates bare ground or volcanic ash, blue indicates snow, and red indicates lava. Pale, thin clouds float overhead.
Red rivulets of cooling lava (still hot enough to emit shortwave-infrared light) reveal recent activity at this volcano, and they flow between isolated patches of blue snow cover. Lake many volcanoes, the summit of Llaima supports little vegetation, although plant life coats the volcano's slopes. According to the Volcanism Blog, Llaima's main crater was blocked by a pyroclastic cone—a buildup of volcanic rocks—and the volcano's primary activity consisted of gaseous emissions as of April 8, 2009.
Llaima is one of Chile's largest and most active volcanoes. Two craters at Llaima have been active during historical times, one at the summit and another in the southeast. Since the seventeenth century, observers have recorded frequent eruptions from Llaima, mostly explosive eruptions with some lava flows.
NASA image created by Robert Simmon, using EO-1 ALI data provided courtesy of the NASA EO-1 Team. Caption by Michon Scott.