This page contains archived content and is no longer being updated. At the time of publication, it represented the best available science.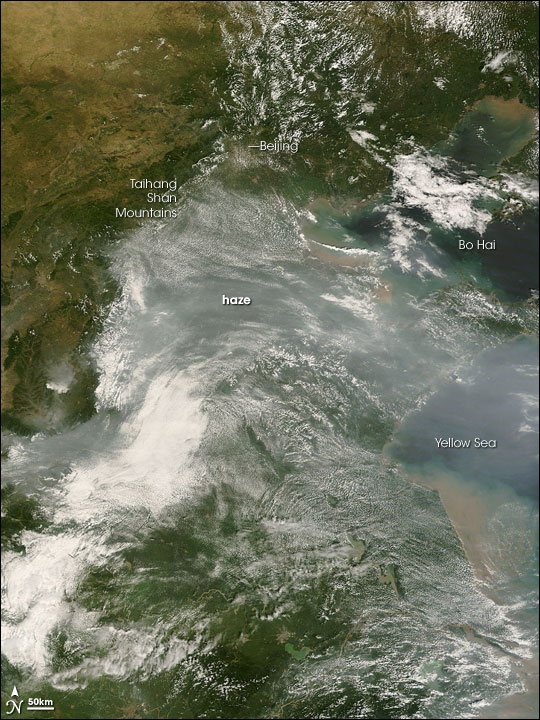 As the 2008 Summer Olympics approached, it seemed there was as much speculation focused on Beijing's air quality as on medal prospects. In advance of the games, Beijing officials restricted traffic, construction, and manufacturing to reduce pollution. By mid-August, observers from the United States, the United Kingdom, and Italy agreed that the city's pollution-reduction efforts had largely succeeded, although one expert stated that favorable weather had also played a role.
The Moderate Resolution Imaging Spectroradiometer (MODIS) on NASA's Terra satellite captured this image on August 19, 2008. Haze mixed with clouds appears to the south of Beijing, and stretches over parts of Bo Hai and the Yellow Sea. Skies over Beijing, however, appear relatively clear.
An environmental chemist from Oregon State University, whose team monitored Beijing's air quality, said particulate matter had been reduced 20 to 40 percent compared to the previous August. The BBC measured particulate matter over the course of the games and found that Beijing met the World Health Organization's strictest standard for 6 of the first 11 days of the Olympic Games. And although Beijing characterized any day when trees, buildings, or people cast shadows as a "blue-sky day," on August 15, 2008, skies were indeed blue over Beijing's Bird's Nest stadium.
NASA image courtesy the MODIS Rapid Response Team at NASA GSFC. The Rapid Response Team provides daily images of this region. Caption by Michon Scott.