This page contains archived content and is no longer being updated. At the time of publication, it represented the best available science.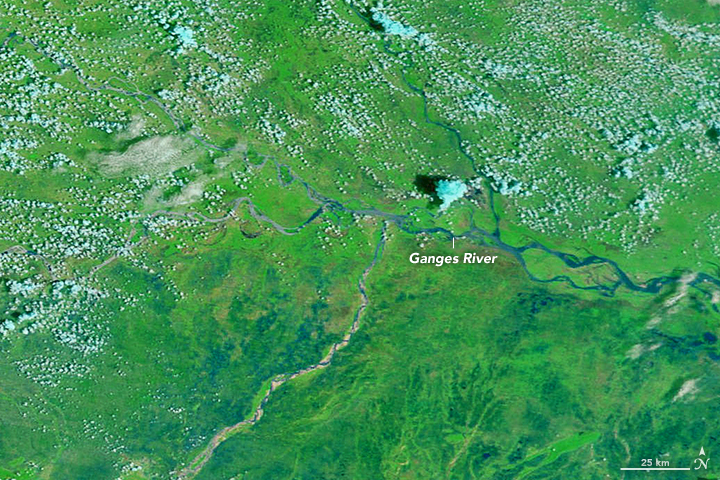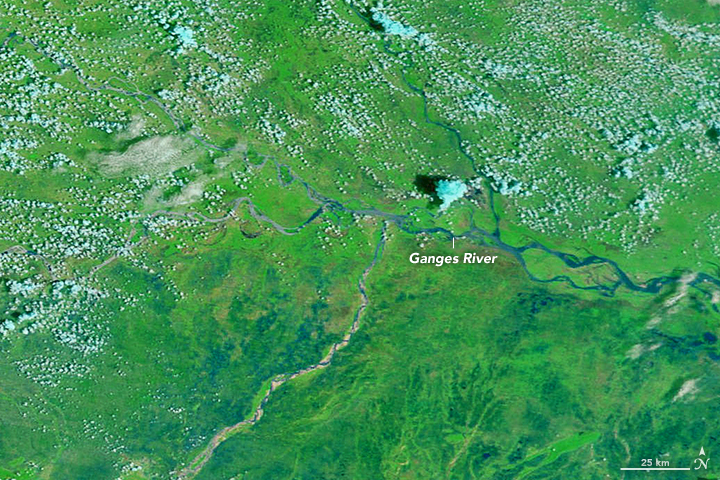 In August 2016, heavy monsoon rains pushed the Ganges and other rivers in eastern and central India above their banks.
The Moderate Resolution Imaging Spectroradiometer (MODIS) on NASA's Terra satellite captured these false-color images of a stretch of the Ganges River near Patna on August 10, 2015 (top), and August 21, 2016 (bottom). These images use a combination of infrared and visible light to increase contrast between water and land. Water is blue. Vegetation is green. Notice that the water is a slightly lighter shade of blue in the lower image due to all the suspended sediment in the water.
At least 300 people have died in eastern and central India and more than six million others have been affected by the flooding, according to news reports.
Satellite-Based Flood Mapping Tools

Dartmouth Flood Observatory (2016, August) Flood Event 2016-India-4384. Accessed August 23, 2016.
NASA Goddard Space Flight Center (2016, August) Flood Mapping Project. Accessed August 23, 2016.
University of Maryland (2016, August) Global Flood Monitoring System (GFMS). Accessed August 23, 2016.
NASA Earth Observatory images by Joshua Stevens, using Terra MODIS data from the Land Atmosphere Near real-time Capability for EOS (LANCE). Caption by Adam Voiland.