This page contains archived content and is no longer being updated. At the time of publication, it represented the best available science.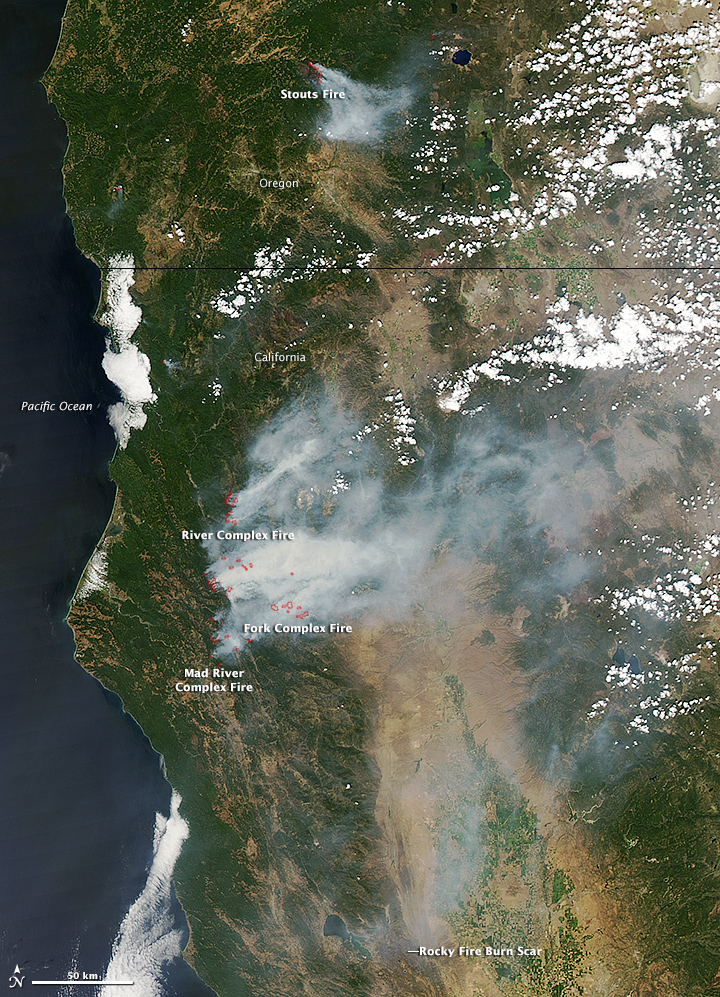 Summer usually brings hot, dry weather and elevated wildfire risk to the western United States. Summer 2015 was no exception. As of August 6, outbreaks of large wildfires had charred more than 6 million acres, nearly two million more than the ten-year average through early August.
While 80 percent of the burned area is the result of massive fires in remote forests in Alaska, large blazes also have emerged in Oregon, Washington, and northern California. The Moderate Resolution Imaging Spectroradiometer (MODIS) on NASA's Aqua satellite collected this image of wildfires burning in Oregon and California on August 5, 2015. Red outlines indicate hot spots where the sensor detected unusually warm surface temperatures associated with fires. Thick plumes of smoke drifted from the hot spots.
The most destructive blaze in California, the Rocky fire, had burned about 69,000 acres (28,000 hectares, or 107 square miles) in Lake, Yolo, and Colusa counties as of August 6. While only a faint burn scar and light smoke is visible in the MODIS image, the Operational Land Imager (OLI) on the Landsat 8 satellite got a more revealing view with a false-color image (below) of the fire on August 3, 2015.
In the composite image, based on observations of short-wave infrared and near-infrared light, charred vegetation appears in red and unburned vegetation appears gray. Actively burning fires are orange. The fire destroyed 43 homes and threatened nearly 7,000 structures, according to the California Department of Forestry and Fire Protection.
Farther north, the Fork Complex, Mad River Complex, and River Complex fires had burned up a combined 37,000 acres in California. The Stouts fire, burning near Milo, Oregon, had charred another 20,000 acres. The photograph below, provided by the National Interagency Fire Center, shows a firefighting helicopter near a smoke plume on the morning of July 31, 2015. Nearly 1,500 firefighters have been battling the Stouts fire.
Many fires were triggered by lightning strikes, but years of drought have parched forests in the West and primed them to burn. A recently published analysis of 35 years of meteorological data found that many parts of the West face longer wildfire seasons than they did a few decades ago, likely because of climate change.
Further Reading

The Washington Post (2015, August 6) California is battling its scariest 2015 wildfire so far — the Rocky Fire. Accessed August 6, 2015.
The New York Times (2015, August 5) The Key Numbers in the California Wildfires. Accessed August 6, 2015.
Voice of America (2015, August 5) Property Losses From N. California Wildfire Nearly Double. Accessed August 6, 2015.
Wired (2015, August 3) The Hellish Beauty of California's Wildfires. August 3, 2015.
NASA image by Jeff Schmaltz, LANCE/EOSDIS Rapid Response. Caption by Adam Voiland.