This page contains archived content and is no longer being updated. At the time of publication, it represented the best available science.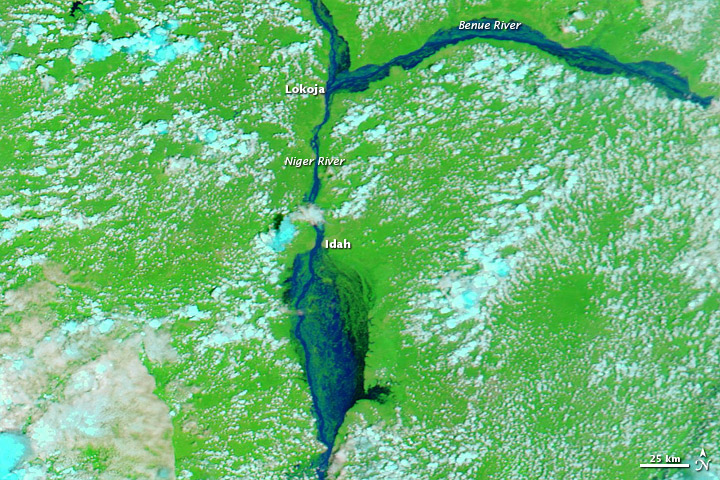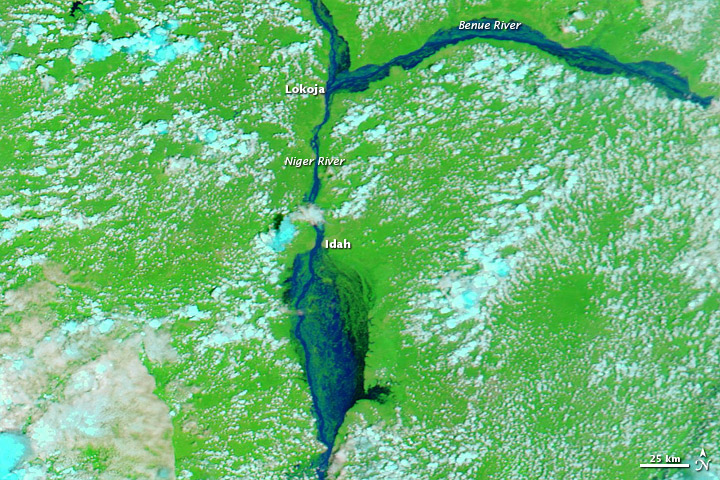 Flood conditions continued in Nigeria in early October 2012. The country's National Emergency Management Agency reported that floods had killed 431 people and displaced 1.3 million more. Floods had also wiped out 152,575 hectares (377,020 acres) of farmland.
These images show the confluence of the Niger and Benue Rivers in southern Nigeria. The Moderate Resolution Imaging Spectroradiometer (MODIS) on NASA's Aqua satellite captured the top image on October 11, 2012, and the bottom image on October 8, 2010. Both images use a combination of visible and infrared light to better distinguish between water and land. Water varies from electric blue to navy, vegetation is bright green, and clouds range in color from nearly white to pale blue-green.
News reports described major rivers and severe flooding in the Niger Delta. Although flash floods frequently occur during the rainy season from May to September, news sources described the 2012 floods as the worst in more than 40 years. Floods even damaged the homestead of Nigerian president Goodluck Jonathan, who declared the event a "national disaster" while visiting a relief camp outside Lokoja.
NASA image courtesy LANCE MODIS Rapid Response Team at NASA GSFC. Caption by Michon Scott.