This page contains archived content and is no longer being updated. At the time of publication, it represented the best available science.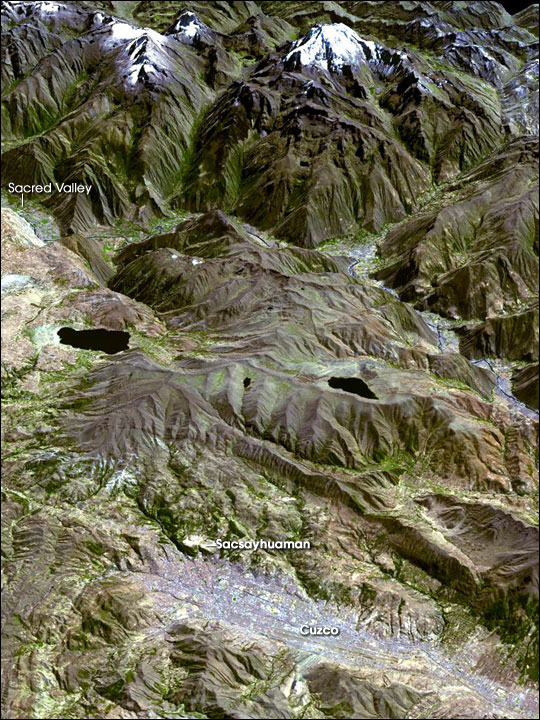 In the Andes Mountains of southern Peru, the Inca civilization flourished for several centuries until it was conquered by the Spanish in the 16th century. Many Inca ruins, including ceremonial pyramids and fortresses, remain in the region, providing glimpses into Inca culture and society for archeologists, anthropologists, and tourists.
This topographic image from the Advanced Spaceborne Thermal Emission and Reflection Radiometer (ASTER) on NASA's Terra satellite from July 18, 2006, shows Cuzco, Peru, which was once the capital of the Inca Empire. Cuzco sits in a valley in the foreground (near the bottom edge), with the snow-capped Andes in the background. The river running through the top of the image passes through the region known to the Inca as the Sacred Valley. As in the time of the Inca, the valley is fertile agricultural land, and growing vegetation lines the river, making a sharp contrast to the more arid slopes of the high mountains, which appear thinly covered with vegetation. The Sacsayhuaman ruins, which may have been a fortress, stand guard over Cuzco from a rock outcrop at the northwestern end of the city. A small but distinct green dot in the heart of the city is a conspicuous sign of the modern age: the dot is the Garcilaso de la Vega football (soccer) stadium.
NASA image courtesy of GSFC/MITI/ERSDAC/JAROS, and the U.S./Japan ASTER Science Team.