This page contains archived content and is no longer being updated. At the time of publication, it represented the best available science.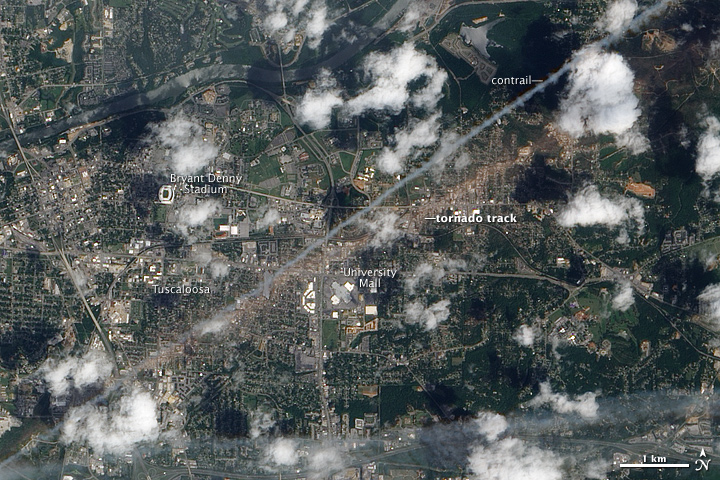 On April 27, 2011, a devastating tornado tore through Tuscaloosa, Alabama. The storm packed winds of 190 miles (310 kilometers per hour) and left a path of debris running southwest to northeast. On May 2, 2011, the Advanced Land Imager (ALI) on NASA's Earth Observing-1 (EO-1) satellite captured this natural-color image of the tornado track through Tuscaloosa.
The tan-toned, debris-filled path passes through the center of town, affecting both commercial and residential properties. The track passes south of Bryant Denny Stadium and just north of University Mall. The mayor of Tuscaloosa estimated the cost of clearing the debris to be between $70 and $100 million.
Running roughly parallel to the tornado track is a contrail from a plane.
The National Oceanic and Atmospheric Administration (NOAA) reported that the tornado was spawned by a supercell thunderstorm that lasted more than seven hours. The supercell started in Newton County, Mississippi, at 2:54 p.m. Central Daylight Time (CDT), and finally ended in Macon County, North Carolina, at 10:18 p.m. CDT. The trail of damage stretched 80.3 miles (129.2 kilometers) long and as much as 1.5 miles (2.4 kilometers) wide.
Between 7:00 a.m. CDT on April 25 and 7:00 a.m. on April 28, a total of 305 tornadoes struck the southeastern and central United States, according to a preliminary estimate from NOAA released May 4. The tornado that passed through Tuscaloosa caused more than 1,000 injuries and at least 65 deaths across several towns and cities, the highest number of fatalities from a single tornado in the United States since May 25, 1955.
NASA Earth Observatory image created by Jesse Allen and Robert Simmon, using EO-1 ALI data provided courtesy of the NASA EO-1 team. Caption by Michon Scott.