This page contains archived content and is no longer being updated. At the time of publication, it represented the best available science.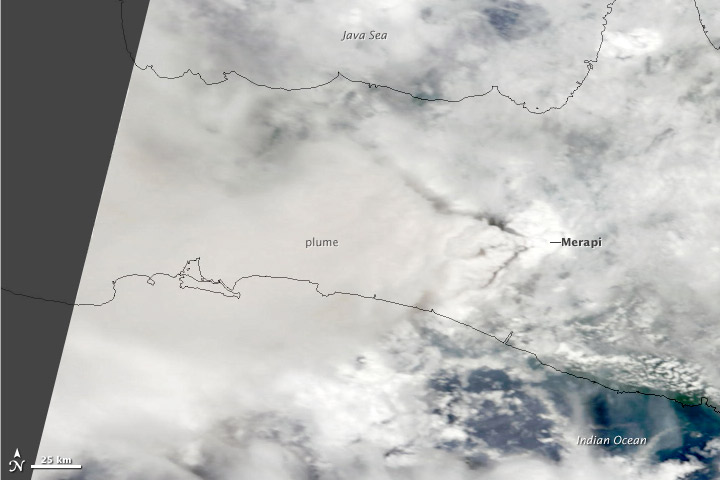 Signs of the eruption at Mount Merapi managed to puncture the persistent cloud cover over Java on November 5, 2010. The Moderate Resolution Imaging Spectroradiometer (MODIS) on NASA's Terra satellite captured this natural-color image the same day.
The volcano's plume formed a V shape, fanning out to the west from the summit and casting shadows on the surrounding clouds below. According to the Volcanic Ash Advisory Center in Darwin, Australia, the ash plume rose to at least 55,000 feet (16 kilometers) in altitude and stretched 220 miles (350 km) to the west and southwest, as of 12:13 a.m. local time on November 6 (17:13 UTC, Nov 5).
The Eruptions volcanism blog and the Associated Press reported a death toll of at least 122 people, more than 100,000 people evacuated, and homes and fields covered in volcanic ash. The Indonesian government declared the event a national emergency and extended the "danger zone" for the eruption to 12 miles (20 kilometers), including the ancient capital of Yogyakarta.
Among Indonesia's most active volcanoes, Merapi sits in one of the world's most densely populated areas. Recorded eruptions have included multiple pyroclastic flows—searing avalanches of ash, gas, and rock fragments—and lahars—flows of water, rock debris, and mud caused by rainwater mixing with ash and other volcanic material. These eruptions have repeatedly devastated nearby communities and croplands.
NASA image courtesy MODIS Rapid Response, NASA Goddard Space Flight Center. Caption by Michon Scott and Mike Carlowicz.