This page contains archived content and is no longer being updated. At the time of publication, it represented the best available science.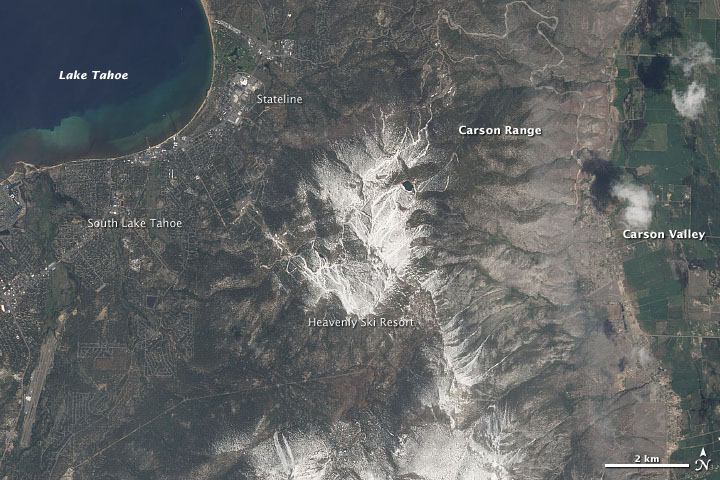 With the peaks of the Sierra Nevada on its west and the Carson Range on its east, high-altitude Lake Tahoe has a long winter. By mid-November, the ski resorts that ring the lake typically have enough snow to open for business. Spring comes gradually, with snow melting fastest in mid-May.
This pair of images shows the changes between May and June 2010. The Advanced Land Imager (ALI) on NASA's Earth Observing-1 (EO-1) satellite acquired the images, which show the southeastern tip of Lake Tahoe and, to its east, the Carson Range covered in a maze of groomed ski trails. The images are part of a year-long series of images, Seasons in Lake Tahoe, the latest entry in the Earth Observatory's World of Change series.
The change in snow cover between May and June confirms that snow melt happened quickly in May 2010. However, if we had satellite images from a typical year in the early 1960s, the seasonal pattern would be slightly different. There may have been more snow, as the amount of precipitation that falls as snow around Lake Tahoe has been decreasing from 52 percent to 37 percent since 1910.
The snow would have stayed longer as well. While the date of maximum snowmelt varies from year to year, peak snowmelt now arrives an average of two-and-a-half weeks earlier than it did in 1961, when peak snowmelt was first measured. This means that the changes seen in mid-May in 2010 would have happened in early June in the 1960s.
These changes in snowfall and snowmelt have happened because temperatures have climbed in the Tahoe region. The average daily minimum temperature increased by more than 4 degrees Fahrenheit (about 2 degrees Celsius) since 1911. Having gone from about 28 degrees Fahrenheit to just above 32 degrees Fahrenheit (-0.2 - 0 degrees Celsius), the average daily minimum temperature is now above freezing. The warming climate—the long-term average of weather—means the timing and intensity of the seasons has shifted around Lake Tahoe.
To read more, see A World of Change: Seasons in Lake Tahoe.
NASA Earth Observatory image by Robert Simmon, using EO-1 ALI data provided courtesy of the NASA EO-1 team. Caption by Holli Riebeek.