This page contains archived content and is no longer being updated. At the time of publication, it represented the best available science.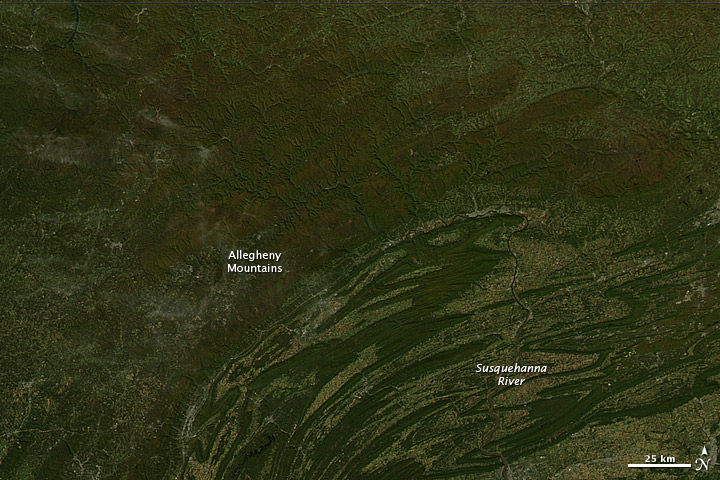 Fall burst upon the northern Allegheny Mountains in Pennsylvania in mid-October 2010. Within a span of just five days, the forests went from green, with a slight hint of fall color, to vivid orange.
The Moderate Resolution Imaging Spectroradiometer (MODIS) on NASA's Aqua satellite captured the fall transformation in this pair of images. The top image is from October 13, while the lower image is from October 8.
The annual display of fall color peaked during the week of October 12, making it the optimum time for leaf viewing in northern Pennsylvania, according to the Pennsylvania Bureau of Forestry. Southern regions were just approaching peak color.
The area depicted is primarily mountains and highlands of northern Pennsylvania. The large image, which includes much of the northeastern United States, shows that autumn was in full swing throughout the Northeast.
Fall color typically peaks in mid-October as leaves gradually lose chlorophyll during the lengthening fall nights. Chlorophyll colors leaves green, so as the concentration of the pigment fades, so too does the leaves' green color. Other pigments—carotenoids (yellow, orange, and brown) and anthocyanins (red and purple)—can then show their colors.
The large images are the highest-resolution versions of the images. Both the October 13 image and October 8 image are available in additional resolutions from the MODIS Rapid Response Team.
NASA images courtesy Jeff Schmaltz, MODIS Rapid Response Team at NASA GSFC. Caption by Holli Riebeek.