This page contains archived content and is no longer being updated. At the time of publication, it represented the best available science.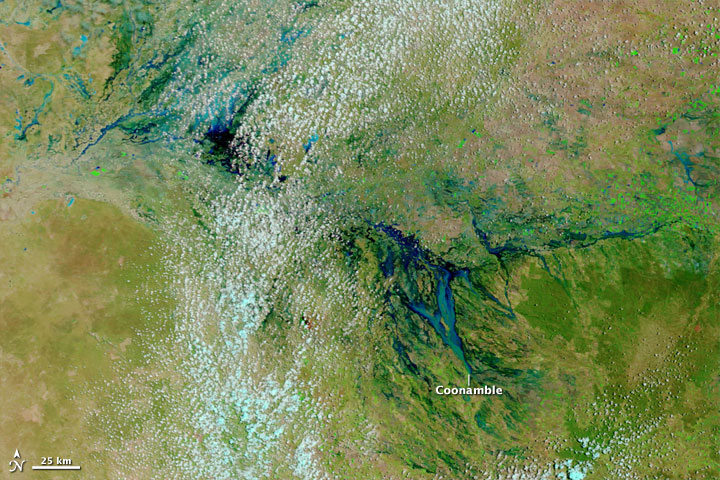 More than 1,000 residents in New South Wales were ordered to evacuate after heavy rains created a water body on usually dry land. Residents of Coonamble, roughly 500 kilometers (311 miles) northwest of Sydney, sought accommodation with friends or families living nearby, or in a newly established evacuation center, according to news reports. Leaving the town altogether was not possible as exit routes were blocked by floodwater, one authority stated.
The Moderate Resolution Imaging Spectroradiometer (MODIS) on NASA's Terra satellite captured these images of the Coonamble region on January 4, 2010 (top), and December 22, 2009 (bottom). Both images use a combination of infrared and visible light to increase the contrast between water and land. Vegetation appears bright green, clouds vary in color from pale blue to turquoise, and water ranges in color from electric blue to navy. The image acquired on January 4 shows an extensive water body that did not exist two weeks earlier. The town of Coonamble sits near the water body's southern edge.
NASA image courtesy MODIS Rapid Response Team, Goddard Space Flight Center. Caption by Michon Scott, NASA Earth Observatory.