This page contains archived content and is no longer being updated. At the time of publication, it represented the best available science.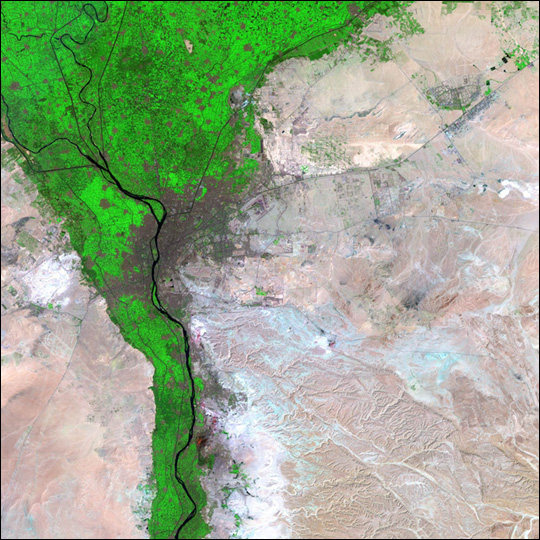 Steeped in a 5,000-year history that encompasses Egyptian Pharaohs, ancient wonders, Roman Emperors, and bloody conquests, Cairo, Egypt, sits on the Nile River about a hundred miles south of the Mediterranean Sea. Cairo boasts a population of 16 million and covers an area of 214 square kilometers (82.6 square miles). The city appears as a large dark brown and purple mass in the center of the image. The bright green regions surrounding the city are farms along the fertile banks of the Nile, which have provided sustenance for residents of the region since before recorded history. Just outside this green swath is the arid and forbidding Sahara Desert.
Though not officially founded until 949 AD, the region surrounding Cairo has an unparalleled history. Roughly 22 kilometers south of central Cairo sits the ancient city of Memphis, founded by the Egyptian ruler Menes after he unified Egypt 5,000 years ago and founded the Egyptian Empire. On the western edge of the city rests the Plateau of Giza, the site of the great pyramids that were built as tombs for the ancient Egyptian pharaohs over 4,000 years ago. Cairo itself was also the home of the Roman fortress where Anthony and Cleopatra sought refuge from Octavius, a seat of power for two Muslim empires, a battleground for the Crusades, and even an English occupied territory.
Today the city faces a challenge unlike any other in its distinguished history. The only arable regions in Egypt are the green floodplains that line the Nile River. This region, however, is also where most new urban development and population expansion is occurring. Researchers in and outside of Egypt fear if this trend continues the country will no longer be able to sustain itself agriculturally.
This image of Cairo was acquired by the Enhanced Thematic Mapper plus (ETM+), flying aboard the Landsat 7 satellite. July 23, 2002, marks the 30th anniversary of the Landsat program. (Click to read the press release—Celebrating 30 Years of Imaging the Earth.) The Landsat program has been particularly instrumental in tracking land use and land cover changes—such as increased urban growth—over the last three decades.
Image courtesy USGS EROS Data Center