This page contains archived content and is no longer being updated. At the time of publication, it represented the best available science.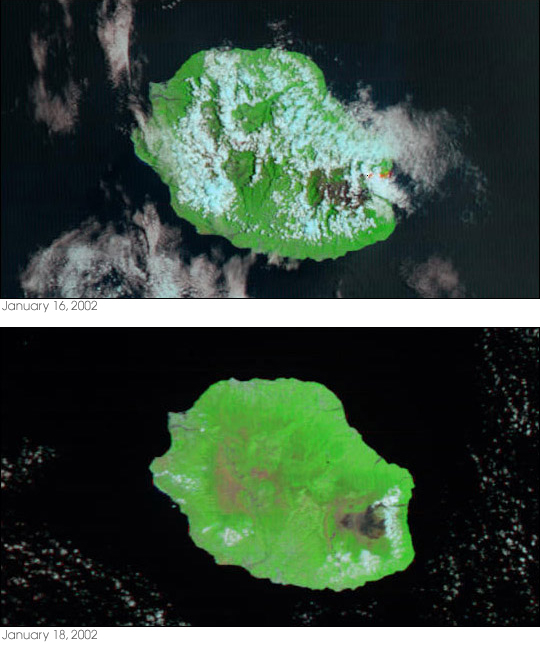 On January 16, 2002, lava that had begun flowing on January 5 from the Piton de la Fournaise volcano on the French island of Réunion abruptly decreased, marking the end of the volcano's most recent eruption. These false color MODIS images of Réunion, located off the southeastern coast of Madagascar in the Indian Ocean, were captured on the last day of the eruption (top) and two days later (bottom).
The volcano itself is located on the southeast side of the island and is dark brown compared to the surrounding green vegetation. Beneath clouds (light blue) and smoke, MODIS detected the hot lava pouring down the volcano's flanks into the Indian Ocean. The heat, detected by MODIS at 2.1µ, has been colored red in the January 16 image, and is absent from the lower image, taken two days later on January 18, suggesting the lava had cooled considerably even in that short time. Earthquake activity on the northeast flank continued even after the eruption had stopped, but by January 21 had dropped to a sufficiently low enough level that the 24-hour surveillance by the local observatory was suspended.
Réunion is essentially all volcano, with the northwest portion of the island built on the remains of an extinct volcano, and the southeast half built on the basaltic shield of 8,630-foot Piton de la Fournaise. A basaltic shield volcano is one with a broad, gentle slope built by the eruption of fluid basalt lava. Basalt lava flows easily across the ground remaining hot and fluid for long distances, and so they often result in enormous, low-angle cones.
The Piton de la Fournaise is one of Earth's most active volcanoes, erupting over 150 times in the last few hundred years, and it has been the subject of NASA research because of its likeness to the volcanoes of Mars.
Image courtesy Jacques Descloitres, MODIS Land Rapid Response Team at NASA GSFC