This page contains archived content and is no longer being updated. At the time of publication, it represented the best available science.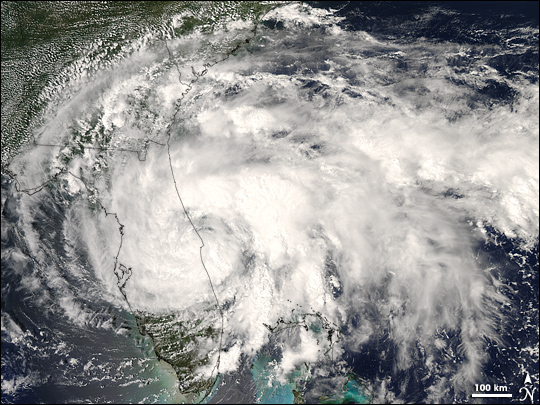 Although the storm didn't reach hurricane strength, Tropical Storm Fay was still expected to drop 30 inches (76 centimeters) of rain along parts of Florida's coast. By August 20, 2008, hundreds of homes in central Florida had been flooded, and a day later, Florida's governor described the storm as a catastrophic flood event. Besides water lapping at their doors, some Floridians had to contend with alligators and snakes that had been chased from their lairs by rising waters, according to news reports.
The Moderate Resolution Imaging Spectroradiometer (MODIS) on NASA's Aqua satellite took this picture of Tropical Storm Fay at 2:35 p.m. local time (18:35 UTC) on August 20, 2008. The eye of the storm apparently hovers near the east coast of Florida, and clouds from the storm stretch hundreds of kilometers eastward over the Atlantic and northward over Georgia and South Carolina.
On August 21, 2008, the U.S. National Hurricane Center forecast that Fay would cross back over Florida, but would move slowly. The center stated that the storm warning remained in effect from Fort Pierce, Florida, to the Savannah River bordering Georgia and South Carolina. The center also predicted storm surge flooding of 1 to 3 feet (0.3 to 0.9 meters) above normal tides.
NASA's Kennedy Space Center in Florida, which had closed on August 19, 2008, was expected to partially open, for "mission essential" personnel only, on August 21, 2008.
The high-resolution image provided above is at MODIS' full spatial resolution (level of detail) of 250 meters per pixel. The MODIS Rapid Response System provides this image at additional resolutions.
NASA image by Jeff Schmaltz, MODIS Rapid Response Team, Goddard Space Flight Center. Caption by Michon Scott.