This page contains archived content and is no longer being updated. At the time of publication, it represented the best available science.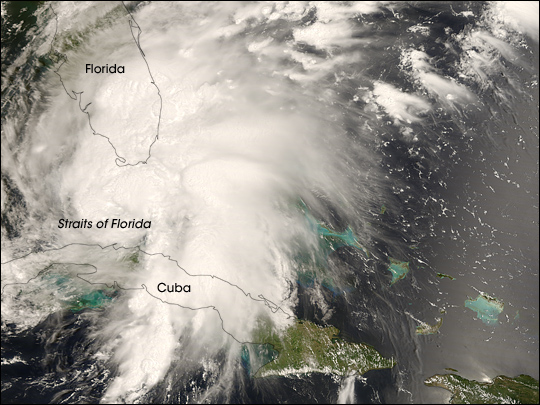 Tropical Storm Fay became the sixth named storm system of the 2008 Atlantic hurricane season after forming over the Dominican Republic on August 15. The storm system traveled the length of Hispaniola, bringing heavy rains and winds to the Dominican Republic and Haiti before traveling along Cuba's southern coast. The Associated Press reported five deaths caused by the storm on Hispaniola as of August 18.
This photo-like image was made from data collected by the Moderate Resolution Imaging Spectroradiometer (MODIS) on NASA's Terra satellite captured this image of the storm at 10:35 a.m. local time (15:35 UTC) on August 18. Fay had crossed through central Cuba and was most of the way across the Florida Straits when MODIS obtained these data. The storm system appears as an organized ball of spiraling clouds, but it lacks the central eye usually associated with a hurricane. The National Hurricane Center was reporting sustained winds in the storm system of 95 kilometers per hour (60 miles per hour). Tides were around two to four feet higher than normal from storm surge, and rainfall totals of four to eight inches (ten to twenty centimeters) were predicted for central Cuba.
As of 5:00 p.m. (Eastern Daylight Time) August 18, forecasts called for the storm to reach Category 1 strength as it traveled from the Keys towards the west coast of Florida, then lose strength as it moved inland. The National Hurricane Center issued hurricane warnings throughout much of southern Florida and tropical storm warnings elsewhere in the state, as forecasters expected the storm to gain power as it moved across the Straits of Florida between Cuba and the Florida Keys. Emergency officials encouraged local residents and visitors in the Keys to leave ahead of the storm.
NASA image by Jesse Allen, using data provided courtesy of the MODIS Rapid Response team at NASA/GSFC.