This page contains archived content and is no longer being updated. At the time of publication, it represented the best available science.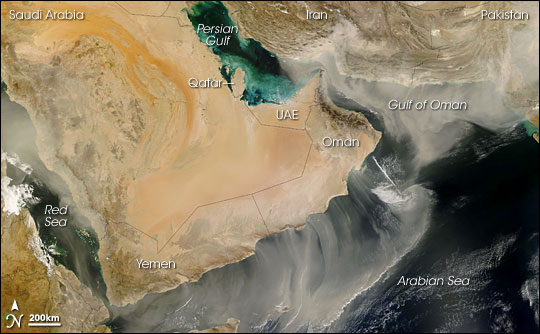 Dust plumes lingered over the Middle East on February 22, 2008, one day after intense dust storms formed over Iran, Afghanistan, and Pakistan, and smaller storms blew off the coasts of Yemen and Oman. This image is a composite of observations by the Moderate Resolution Imaging Spectroradiometer (MODIS) on NASA's Terra and Aqua satellites. In this image, thick dust plumes blow southward off the coasts of Pakistan, Iran, Oman, and Yemen. Some dust also blows eastward off the coast of Saudi Arabia and over the Red Sea. Skies are relatively clear over the Persian Gulf, but the swirls of bright green in the water indicate that sediment may have been stirred up by the same winds that caused the dust storms.
The high-resolution version of this image has a resolution of 500 meters per pixel.
NASA image courtesy Jeff Schmaltz, MODIS Rapid Response team. Caption by Michon Scott.