This page contains archived content and is no longer being updated. At the time of publication, it represented the best available science.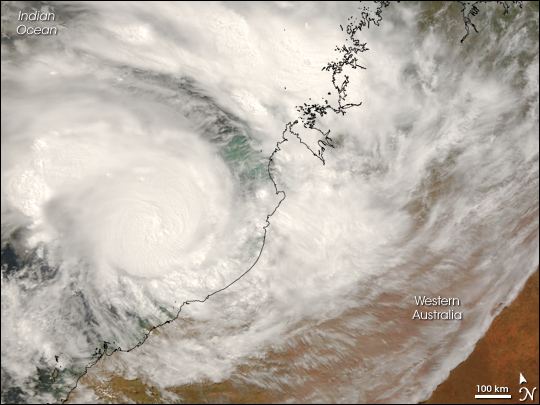 After crossing Australia's Northern Territory and triggering floods, Cyclone George skimmed along the Australian coast, steadily gaining power. By the time the storm took a sharp turn towards shore and headed towards Port Hedland in northern Western Australia on March 8, 2007, the cyclone packed sustained winds of 200 kilometers per hour (127 miles per hour, 110 knots), with gusts to 250 km/hr (155 mph, 135 knots). The Moderate Resolution Imaging Spectroradiometer (MODIS) on NASA's Terra satellite captured this image on March 8 at 10:55 a.m. local time (1:55 UTC). Though the storm lacks a distinct eye, the dense concentration of swirling clouds attests to the storm's power.
The high-resolution image provided above is at MODIS' full spatial resolution (level of detail) of 250 meters per pixel. The MODIS Rapid Response System provides this image at additional resolutions.
You can also download a 250-meter-resolution Cyclone George KMZ file for use with Google Earth.
NASA image by Jeff Schmaltz, MODIS Rapid Response Team, Goddard Space Flight Center.