This page contains archived content and is no longer being updated. At the time of publication, it represented the best available science.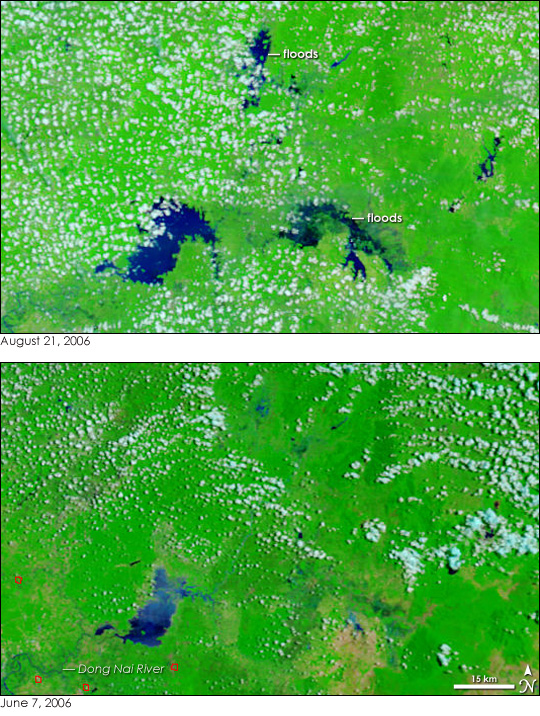 Floods raged throughout southern and central Vietnam starting on August 12, 2006. When the Moderate Resolution Imaging Spectroradiometer (MODIS) on NASA's Terra satellite captured the top image on August 21, 2006, sections of the Dong Nai River and its surroundings were extensively flooded. Two new lakes seem to have sprung up between August 21 and June 7, when the lower image was taken. The reservoir along the river in the lower-left corner of the image has also expanded. According to the Dartmouth Flood Observatory, the floods submerged 9,300 houses and 50,000 hectares of farmland, causing more than a million dollars of damage.
These images are shown in false color to highlight the presence of water on the ground. In this color combination, water ranges from black to pale blue, clouds are light blue and white, plant-covered land is bright green, and land that is sparsely vegetated is tan. Active fires are marked with red boxes. Daily images of Southeast Asia are available from the MODIS Rapid Response Team in both false color and photo-like true color.
NASA images courtesy the MODIS Rapid Response Team at NASA GSFC.