This page contains archived content and is no longer being updated. At the time of publication, it represented the best available science.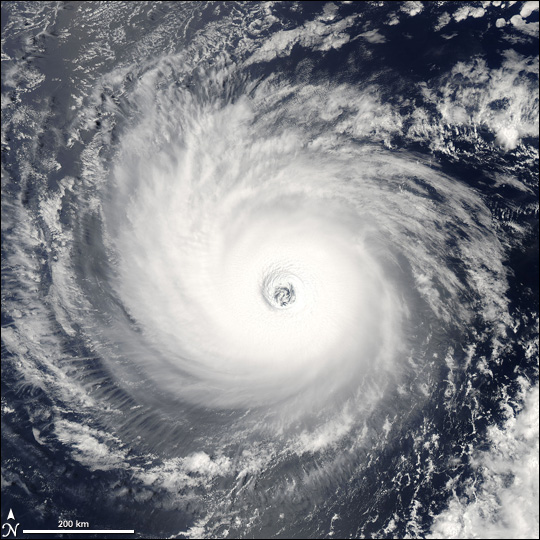 With winds near 240 kilometers per hour (150 miles per hour or 130 knots), Hurricane Daniel was a powerful and dangerous storm when the Moderate Resolution Imaging Spectroradiometer (MODIS) on NASA's Aqua satellite captured this image on July 21, 2006, over the Eastern Pacific Ocean. Daniel has tightly spiraling clouds that circle an open eye with near-perfect symmetry: hallmarks of a well-organized storm. At the time, 2:55 p.m. Pacific Daylight Time (21:55 UTC), Daniel was a strong Category 4 storm, its winds just a few knots short of a Category 5 storm. The Central Pacific Hurricane Center predicted that the storm would move slowly northwest, gradually degrading into a tropical storm before hitting the island of Hawaii on July 28.
The large image provided above has a resolution of 500 meters per pixel. The image is available in additional resolutions, including the sensor's maximum resolution of 250 meters per pixel, from the MODIS Rapid Response Team.
NASA image courtesy Jeff Schmaltz, MODIS Land Rapid Response Team at NASA GSFC