This page contains archived content and is no longer being updated. At the time of publication, it represented the best available science.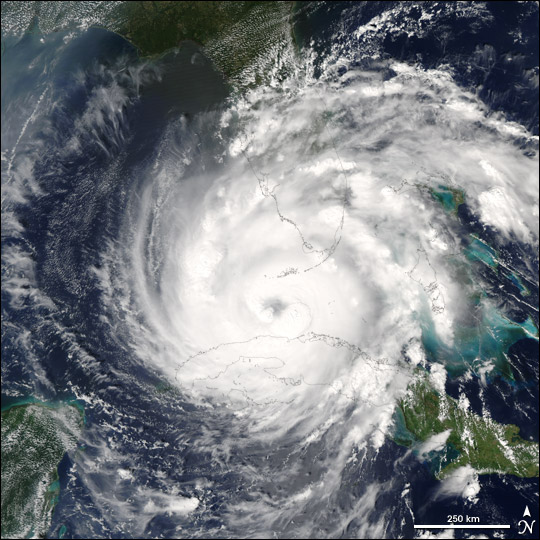 After the immense devastation brought by Hurricane Katrina, all eyes were on Hurricane Rita as it passed over the Florida Keys and the Gulf of Mexico. Rita formed from a tropical disturbance east of the Turks and Caicos Islands into a depression (TD #18) on September 17, 2005. The system moved west through the Caicos and strengthened into a tropical storm on the 18th before entering into the southern Bahamas.
Category 2 Hurricane Rita was passing between the Florida Keys and Cuba when the Moderate Resolution Imaging Spectroradiometer (MODIS) on NASA's Aqua satellite captured this image at 2:35 p.m. Eastern time on September 20, 2005. At the time, Rita had peak sustained winds of 160 kilometers per hour (100 miles per hour), with hurricane-strength winds extending well away from the storm's center, including settlements in the Key Islands and in Cuba's capital, Havana.
The large image provided above has a resolution of 250 meters per pixel. The image is available in additional resolutions from the MODIS Rapid Response Team.
NASA image courtesy Jeff Schmaltz, MODIS Land Rapid Response Team at NASA GSFC.