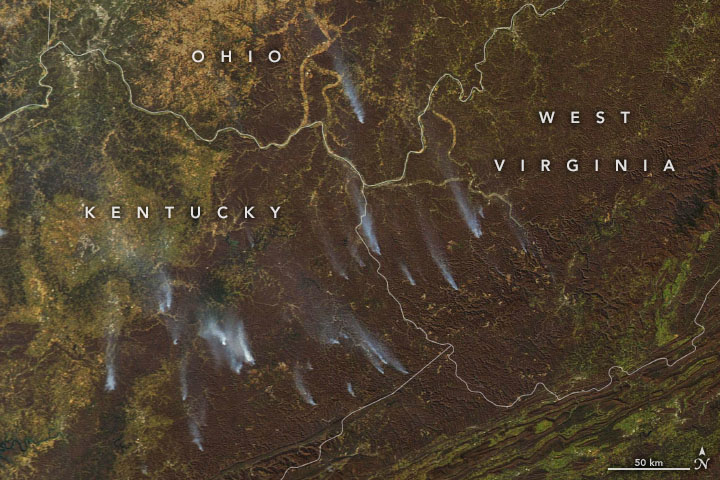 Dry autumn conditions and high winds spurred numerous wildland fires in Kentucky, Ohio, and West Virginia in November 2022.
Smoke from the fires is visible in this natural color image, acquired on November 9, 2022, with the Moderate Resolution Imaging Spectroradiometer (MODIS) on NASA's Aqua satellite.
In Kentucky, more than 50 fires were actively burning across the state as of November 10; of those, 20 were uncontained. Many of the fires were in the eastern part of the state, causing air quality to plummet to unhealthy levels in some towns and cities. In Estill County, a state of emergency was declared on November 8 as fires threatened infrastructure and access to roads.
In southern Ohio, smoke billowed from fires burning in Wayne National Forest. These fires, collectively called the Kimble Complex, ignited on November 8 as several small individual fires. They eventually joined together into a single fire that has burned 1,300 acres (2 square kilometers) as of November 10.
Several fires were also burning across southern West Virginia. In the New River Gorge National Park and Preserve, fire has so far scorched about 200 acres.
October 1 marked the start of the autumn fire season across the three states. This is the time of year when low humidity, warm temperatures, and high winds increase the chance of fire. There is also more fuel for fires to burn during this time of year as trees drop their leaves.
As the remnants of Hurricane Nicole pass through the region later in the week, forecasters called for rain that could help extinguish some of the fires.
NASA Earth Observatory image by Joshua Stevens, using MODIS data from NASA EOSDIS LANCE and GIBS/Worldview. Story by Kathryn Hansen.