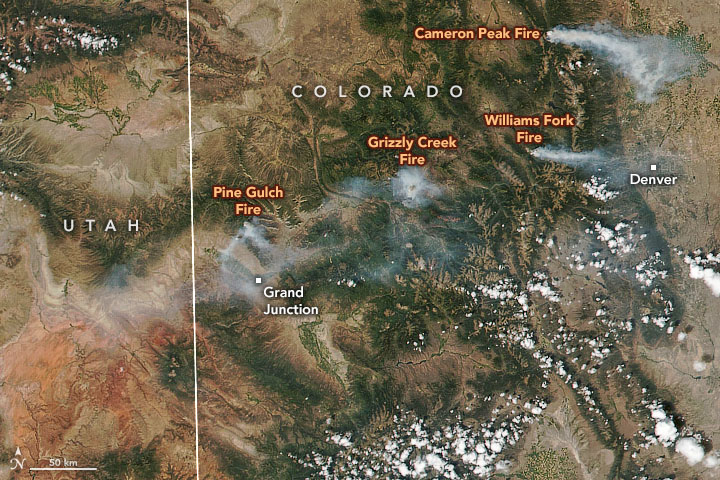 Four wildfires in Colorado have collectively burned more than 125,000 acres (500 square kilometers) across the state. On August 15, 2020, the Visible Infrared Imaging Radiometer Suite (VIIRS) on the NOAA-NASA Suomi NPP satellite captured this natural-color image of smoke from the fires.
The Pine Gulch Fire north of Grand Junction is the largest of the four, consuming more than 85,000 acres in two weeks. As of August 17, it was the fourth-largest fire in state history and was just 7 percent contained. The Grizzly Creek, Cameron Peak, and Williams Fork fires had burned around 25,000, 13,000, and 6,000 acres, respectively.
The wildfires have persisted due to hot, dry conditions and will most likely burn for many weeks to come, forecasters suggest. The William Fork Fire many not be contained until October.
NASA Earth Observatory image by Joshua Stevens, using VIIRS data from NASA EOSDIS/LANCE and GIBS/Worldview and the Suomi National Polar-orbiting Partnership. Text by Kasha Patel.