Fire has long been used as a tool to manage pine forests in the U.S. Southeast. In a normal year, virtually all of the springtime fire activity in the region (as detected by NASA satellites) is associated with prescribed fires by forest managers.
But spring 2020 has been anything but normal. With a novel strain of coronavirus spreading throughout the United States, many prescribed burning programs have been disrupted by public health measures aimed at slowing the spread of the virus and minimizing smoke exposure. The U.S. Forest Service temporarily suspended all of its prescribed burns on federal lands in the Southeast in March, and state agencies in Mississippi, South Carolina, and North Carolina also issued spring burning bans.
As shown by the chart below, the number of active fires detected in the Southeast by the Visible Infrared Imaging Radiometer Suite (VIIRS) on the Suomi NPP satellite fell 42 percent below normal between January 1, 2020, and May 9, 2020, as compared to the 2012-2020 average for the same period. That means spring 2020 had the fewest active fire detections of any spring in the VIIRS record (which began in 2012). Likewise, an analysis of data from NASA's Moderate Resolution Imaging Spectroradiometer (MODIS)—a similar sensor but with a longer data record—showed spring 2020 fire counts were the lowest on a record that begins in 2004.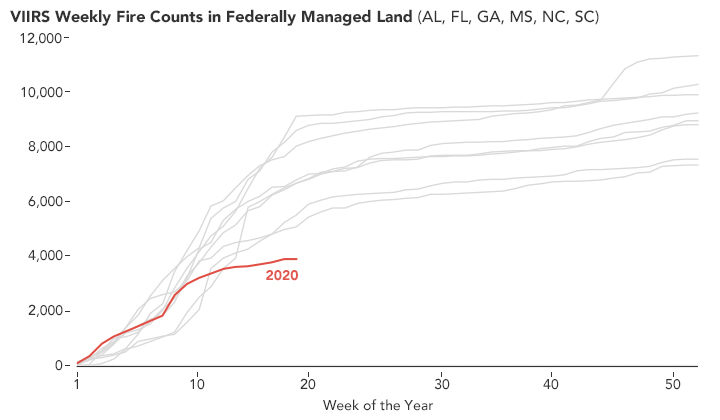 "We saw declines all over the region, but especially on federal lands—places like national forests, wildlife management areas, and military bases," said Benjamin Poulter, a scientist at NASA's Goddard Space Flight Center who is involved with NASA's Carbon Monitoring System.
The natural-color VIIRS image below shows a March day from a more typical fire season in the Southeast. Areas in red show where the sensor detected unusually warm temperatures associated with fire. (Note that many prescribed fires go undetected by VIIRS because of the time of day or the fires being too small.) Forest managers ignite these small, controlled fires to minimize wildfire risk, dispose of leftover wood after timber harvests, maintain plant and animal biodiversity, and improve wild game habitat. According to one recent estimate, about 70 percent of all prescribed fires in the United States occur in the Southeast.
"Many of the fires you see in March and April—especially in Georgia and Alabama—are prescribed burns related to timber harvesting," explained Jessica McCarty, a fire scientist at Miami University. She noted that NASA and NOAA recently sampled smoke from prescribed burns at several timber sites in the Southeast as part of the recent FIREX-AQ campaign.
The map at the top of the page shows that that some of the biggest declines in fire activity were in Florida, especially around Apalachicola National Forest, Big Cypress National Preserve, Ocala National Forest, Blackwater River State Forest, and Eglin Air Force Base. Other states with noteworthy declines were Mississippi (especially De Soto National Forest, Holly Springs National Forest, and Bienville National Forest), Alabama (Bankhead National Forest, Talladega National Forest, and Conecuh National Forest), and Georgia (Fort Stewart and Fort Benning).
Not every part of the Southeast saw a drop in fire activity. One area with increased activity was the Red Hills region of southwestern Georgia and the Florida Panhandle. The area has large expanses of privately owned forests that are managed for bobwhite quail hunting and biodiversity conservation.
"We normally start burning in early March and finish by mid-May,," explained Morgan Varner the director of fire research at Tall Timbers Research Station, a non-profit land trust and research organization in the Red Hills region. "But with so much uncertainty about COVID-19 and possible changes in burning restrictions, managers prioritized doing prescribed burns more quickly than usual."
While state and federal land managers will likely attempt to catch up on prescribed burns next year, there will be ecological consequences this year. "Several endangered animals and declining species—including the bobwhite quail, red-cockaded woodpecker, and gopher tortoise—depend on these fires for habitat," said Varner.
"One of the things that we are concerned with is whether the buildup of fuels will lead to increases in the intensity or number of wildfires," Poulter added.
On the other hand, prescribed fires are a big source of smoky emissions, so the reduction in fire has likely contributed to improved air quality in the region since economic restrictions and social distancing went into place in March.
NASA Earth Observatory images by Lauren Dauphin, using VIIRS data from NASA EOSDIS/LANCE and GIBS/Worldview and the Suomi National Polar-orbiting Partnership. Story by Adam Voiland, with information from Benjamin Poulter, Morgan Varner, Jessica McCarty, Amber Soja, and James Crawford.