Some features of this site are not compatible with your browser. Install Opera Mini to better experience this site.
This page contains archived content and is no longer being updated. At the time of publication, it represented the best available science.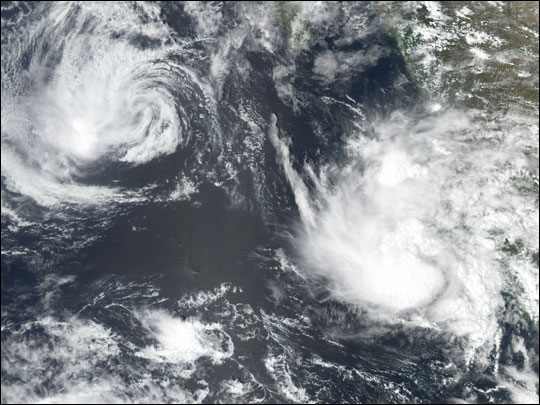 The MODIS instrument onboard NASA's Aqua satellite captured this true-color image of two tropical systems in the eastern Pacific Ocean: Tropical Storm Nora (upper left) and Tropical Storm Olaf (bottom right). At the this image was taken Nora had maximum sustained winds of 46 mph while Olaf had sustained winds of 50 mph and was forecast to slightly strengthen before making landfall near Manzanillo.
Image courtesy Jesse Allen, based on data from the MODIS Rapid Response Team at NASA GSFC