Sitting along the northwest rim of the Pacific Ring of Fire, Kamchatka is one of the most volcanically active parcels of land in the world. At least 300 volcanoes dot the peninsula, and at least 29 of them are active.
Two of those volcanoes were busily puffing away in early January 2018. The Moderate Resolution Imaging Spectroradiometer (MODIS) on NASA's Terra satellite caught a glimpse of plumes rising from Shiveluch and Klyuchevskaya on January 9. The plume from Shiveluch stretched for at least 100 kilometers. Note the long shadows, which are caused by high peaks and thick clouds and the low, oblique angle of the Sun in the winter sky.
On January 10, the Operational Land Imager (OLI) on Landsat 8 got clear, closeup views of the area around Klyuchevskaya (below).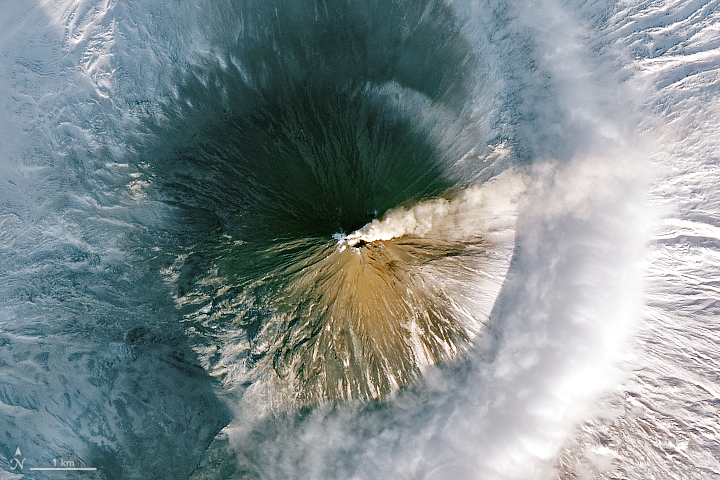 Shiveluch is one of the largest and most active volcanoes on the Kamchatka Peninsula, with at least 60 eruptions in the past 10,000 years. The current eruption has been ongoing since 1999. On January 10, 2018, the Kamchatka Volcanic Eruption Response Team reported that volcanic explosions had lofted ash 10 to 11 kilometers (33,000 to 36,000 feet) into the atmosphere. The aviation threat level was briefly raised to code red, but was lowered to orange by the end of the day. Volcanic emissions can pose a hazard to airplane engines, which can stall or fail when choked with smoke and ash.
By comparison, Klyuchevskaya was relatively docile on January 10, emitting a small plume of gas, steam, and ash. The volcano is the tallest and most active on the peninsula, and the latest eruption has been ongoing since August 2015. More than 100 eruptions have occurred at Klyuchevskaya in the past 3,000 years, with 12 eruptions since 2000.
NASA Earth Observatory images by Joshua Stevens and Jeff Schmaltz, using Landsat data from the U.S. Geological Survey and MODIS data from LANCE/EOSDIS Rapid Response. Story by Michael Carlowicz.