This page contains archived content and is no longer being updated. At the time of publication, it represented the best available science.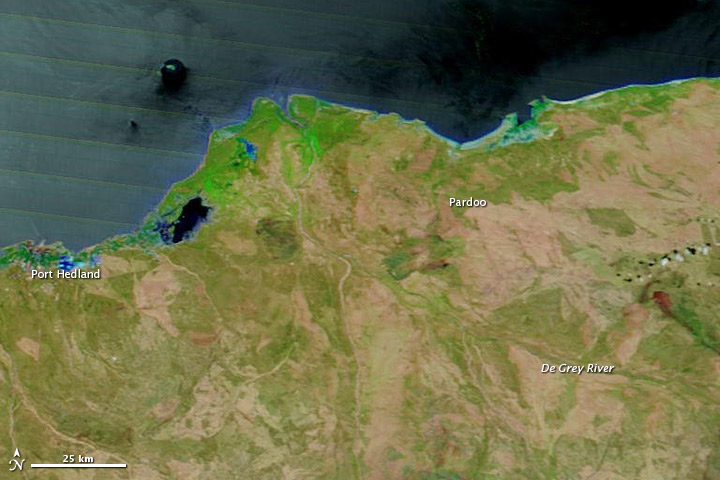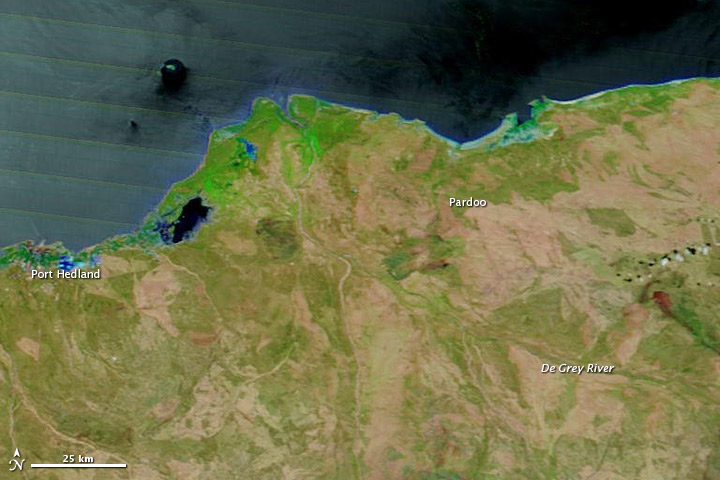 Tropical Cyclone Rusty made landfall in northwestern Australia in late February 2013, coming ashore east of Port Hedland and bringing strong winds to the community of Pardoo. Rusty also carried heavy rains, and in early March, the Australian Bureau of Meteorology issued a flood warning for the catchment of the De Gray River.
Higher water the wake of Rusty was apparent on March 4, 2013, when the Moderate Resolution Imaging Spectroradiometer (MODIS) on NASA's Terra satellite captured the top image. For comparison, the bottom image shows conditions observed before the storm, on February 21, 2013. Both images use a combination of visible and infrared light to better distinguish between water and land.
Water varies in color from pale blue-green to navy, and darker shades of blue—lighter water carries sediment, while darker water is relatively sediment-free or significantly deeper. Vegetation is bright green and bare ground is earth-toned. Clouds are nearly white and cast shadows. (In the image acquired on February 21, the ocean has a relatively light, striped appearance. This is due to sunlight bouncing off the ocean surface and into the satellite sensor, accentuating sensor scan lines.)
On February 21, the De Grey River was barely visible in MODIS imagery. On March 4, the river's channels showed up clearly. High water also pooled near the coast between Port Hedland and Pardoo.
Flooded rivers typically carry heavy loads of sediment, and a sediment plume appeared at the river mouth on March 4. In this false-color imagery, the sediment appears electric blue. MODIS on NASA's Aqua satellite captured natural-color imagery of the sediment plume on March 3.
NASA images courtesy LANCE MODIS Rapid Response. Caption by Michon Scott.