This page contains archived content and is no longer being updated. At the time of publication, it represented the best available science.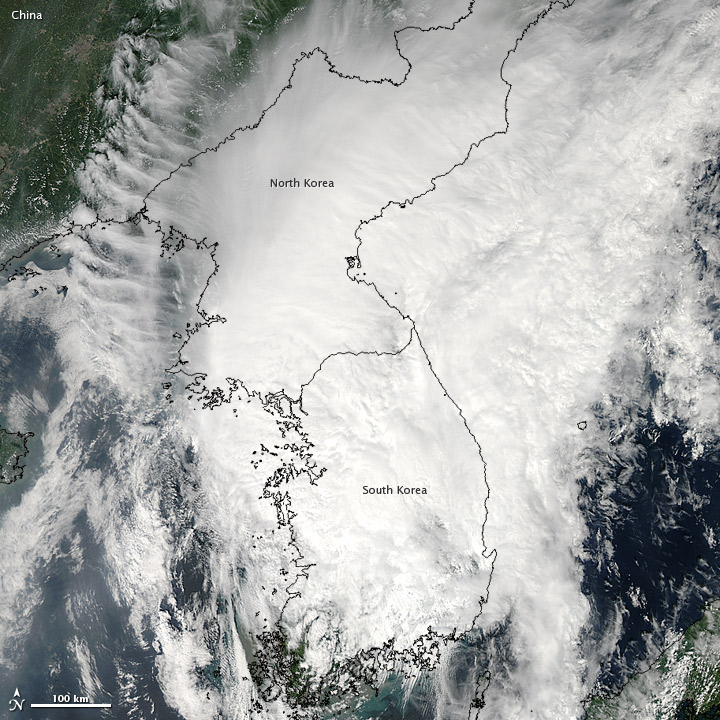 Tembin followed a tortuous path over the western Pacific Ocean in late August 2012. After lingering southwest of Taiwan, the storm lurched northwards over the East China Sea in the direction of the Korean Peninsula. It arrived there on the heels of another powerful storm, Bolaven.
The Moderate Resolution Imaging Spectroradiometer (MODIS) on NASA's Aqua satellite captured this natural-color image of Tropical Storm Tembin on August 30. Tembin engulfed the Korean Peninsula, just as Bolaven had days earlier.
On August 30, Tembin was finally winding down as a tropical storm. The U.S. Navy's Joint Typhoon Warning Center reported that Tembin had maximum sustained winds of just 35 knots (65 kilometers per hour). Although wind speeds were well below typhoon strength, the storm still brought heavy rains to North and South Korea, CBS news reported. Tembin raised fears of serious damage in North Korea, which had not only faced Bolaven days earlier, but had also experienced deadly flooding in the preceding two months.
NASA image courtesy Jeff Schmaltz, LANCE MODIS Rapid Response Team at NASA GSFC. Caption by Michon Scott.