This page contains archived content and is no longer being updated. At the time of publication, it represented the best available science.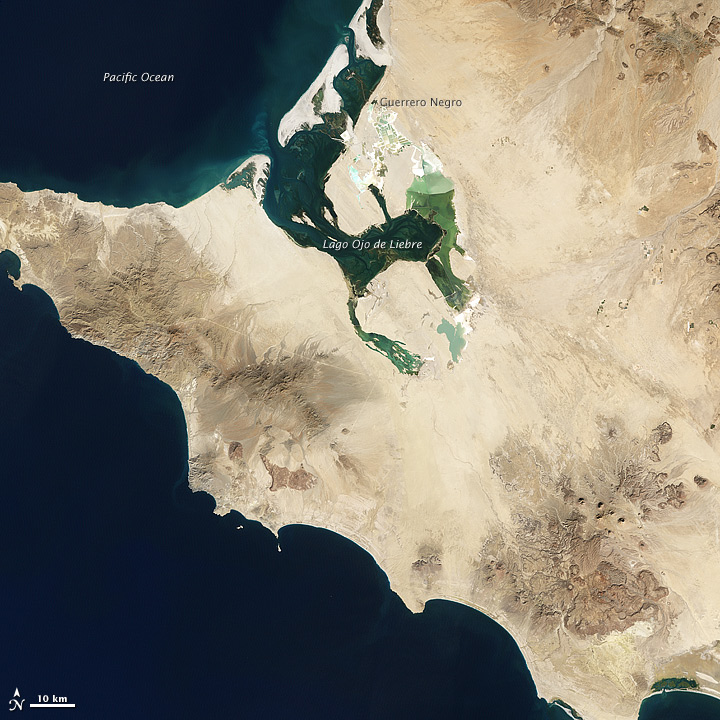 Midway down the Baja California Peninsula lies a land- and seascape that the United Nations Educational, Scientific, and Cultural Organization (UNESCO) has declared a World Heritage site and a Biosphere Reserve. Encompassing two lagoons and a large stretch of land between them, El Vizcaíno Biosphere Reserve provides a winter home for gray whales and other marine mammals, and habitat for thousands of migratory waterfowl. Plant life includes Sonoran Desert vegetation and, at the water's edge, mangroves.
On December 5, 2002, the Enhanced Thematic Mapper Plus on the Landsat 7 satellite captured this image of the western part of the reserve, including Lago (Laguna) Ojo de Liebre.
In the western reaches of El Vizcaíno, elevations are low and climate conditions are dry. Annual precipitation is generally less than 80 millimeters (3 inches) per year, and water evaporates so quickly that rivers rarely reach the ocean. Meanwhile, constant winds organize loose sands into dunes. But the land is not completely barren: More than 400 plant species have been identified in the reserve, many of them shrubs or herbaceous plants.
The rocks in this region are mostly sedimentary—made from material that was eroded by wind or water, and later deposited in new places. Volcanic rocks protrude through the sedimentary layers and can be distinguished by their darker colors and rugged surfaces. An assemblage of volcanic rocks appears southeast of Lago Ojo de Liebre.
This image also shows evidence of human activity. Some of the clearest green areas in this image result not from lush vegetation but from salt extraction. Along the edges of Lago Ojo de Liebre and near the town of Guerrero Negro, a massive salt mine produces roughly seven million tons of salt each year. The salt works contrast with their surroundings thanks to their rectangular outlines and green hues.
NASA Earth Observatory image by Jesse Allen and Robert Simmon, using Landsat data from the United States Geological Survey. Caption by Michon Scott.