This page contains archived content and is no longer being updated. At the time of publication, it represented the best available science.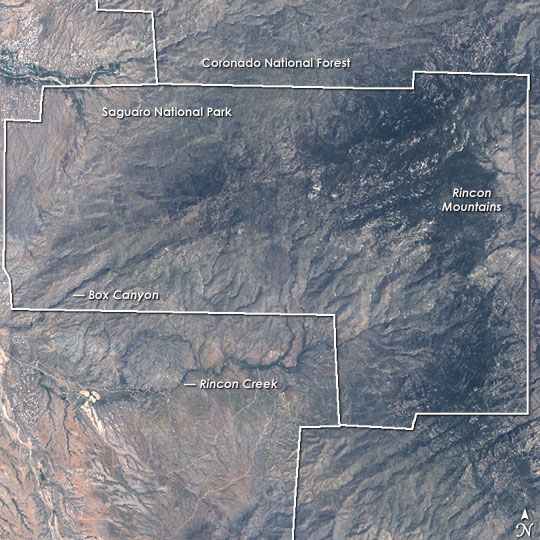 If asked to picture a cactus, most people would describe a tall plant with arms that curve up towards the sky. Called the symbol of the Southwest, this cactus is the Saguaro cactus and only grows in the Sonora Desert of the southwestern United States. A single Saguaro cactus may live as long as 150 years, in which time it can reach up 15 meters tall and weigh 8 tons, making it the largest cactus in the United States.
One of the best places to see these emblematic cacti is the Saguaro National Park. The park encompasses about 37,000 hectares of the Sonora Desert. The park was established as a National Monument in 1933 and became a national park in 1994; it is one of the newest national parks in the United States. Saguaro National Park is split in two by the city of Tucson, Arizona. The eastern half of Saguaro National Park is shown in this Landsat image, captured on September 17, 2000. The Coronado National Forest surrounds this section of the park on three sides, and the outskirts of Tucson can be seen on the west, suburban neighborhoods forming tiny pale specks.
For a desert landscape, the scene may seem surprisingly green. That is because the Sonora Desert receives as much as 12 inches of rain every year, supporting a lush desert ecosystem that includes as many as 49 varieties of cactus. The greenest areas follow the ridge of the Rincon Mountains along the east side of the park where a mixed pine forest caps the peaks. At lower altitudes, the well-drained gravel soils of the foothills provide nearly perfect growing conditions for forests of Saguaro cacti. The cacti grow throughout the park, however, and several popular trails weave through the landscape north of Box Canyon to give visitors a chance to see the plants. In addition to Box Canyon, several rivers and streams cut canyons through the valley as they flow from the mountains into Rincon Creek just south of the park.
To read more about the park, please visit the Saguaro National Park website.
NASA image created by Jesse Allen, Earth Observatory, using data obtained courtesy of the University of Maryland's Global Land Cover Facility.